I had always been intrigued by this race.  I had driven up the mountain but never walked or hiked to the top..
Until last year.
I ran this race for the first time in 2021… and I really enjoyed it!!!
One of my running friends exclaimed: "You hate hills. That race race is straight up hill. Are you crazy?"
I replied that it was my birthday in TWO days and I wanted to do something crazy! And as they advertise: "It's only ONE hill!"
1,601 foot vertical climb …ouch!
Pre-Race Activities and Preparations:
I had been running some downhill or FLAT races lately.
So I definitely was NOT prepared to run up a mountain. But I knew that I could walk most of it if I had to.
I needed to do a 12 mile Long Run in preparation for my May 22 half marathon.
Well, it was almost 6 miles (5.67) to the top so I could also run back down to my car (although last year, I did hitch a ride down.)
This time of year is tricky to decide what to wear. It could be real spring or what they call in "fake spring."  I tried to remember what I used to wear to race at this time of year.  (I seem to have dressing amnesia.)
The forecast looked cold in the morning… and probably colder on the top of a mountain.
So I decided on this:
Race Day:
So I got up early, had my habitual race breakfast (oatmeal & coffee). I carpooled with my friend Jenny (who lives near me) and we hit the road around 7:15 am.
I arrived around 8 15 am and the packet pick up was at the start.
Then we drove to find parking (right next door) and waited in my car to stay warm until it was time to walk back to the start.
There was no actual start line.  Everyone just seemed to gather.
Last year, I left Garmin home since I didn't plan to race it but this year, I wanted an elevation map.
This is all I got last year from my Apple watch:
Basically the course was run on Veterans' Memorial Highway from the village of Lake George to the summit of Prospect Mountain and was just under 5.7 miles, climbing a little over 1600 feet in elevation.
Mile 1:
Being that the start was not chip-timed, if I cared I would have started closer to the front of the pack.  But I didn't.
And I hit the wrong button on my Garmin and so it didn't start right away.
The first mile is mostly flat.  This was the only mile that I didn't have to walk. Still I ran slowly not to tire myself out for the climb to come.
There was a mile marker at each mile and someone calling out times at some of them. There were cute motivational signs at each marker.
Believe it or not, I quickly realized that I was over-dressed. I wore two shirts so I rolled up my sleeves.  Then I took off my gloves… then my beanie and finally put my hair in a pony tail.
Mile 2:
Carrying all my throw-aways got annoying so I just left them on a big rock on the side of the road. (Jenny and I had planned to run down so I could pick them up later.)
The climbing started immediately after the mile 1 mark.  Someone said that it was a 600 foot gain.  And so the walk breaks began.
The scenery was really pretty. Waterfalls lined the rocks on the left side most of the race.
After a steady mile and a half of climbing, the road leveled off near the 2.5-mile mark  I picked up the pace here. It was a short welcome breather.
I think there was the first of the two water stops during this mile, as well.  It was a normal water stop with volunteers handing out cups of water. I was happy not to have to carry a cup or water bottle.
Mile 3:
During this mile, the climbing started again. I knew that I could not run the whole way up but I decided to decrease my walk breaks and run more.
The amazing thing was that there were runners who did not walk at all but they were not far ahead of me.
It seemed that most of the runners in this race were older and were men.  Many seemed to be around my (slow) pace.  They were walk/running like me and we kept trading leads throughout the race.
Mile 4:
Much of the same. Running as much as I could and walking when I couldn't.
The altitude was making me a little dizzy so I ate a GU and I think that helped.
But basically, there was no respite from the climb. And I forgot to mention that it was very windy at times… that didn't help.
Some place during this mile was the second water stop. I did stop again. I was getting very warm too (over dressed!!)
Mile 5:
There were the multiple parking areas clustered around the peak. Just before the first lot there is a sign that proclaims "Parking 1000 meters ahead." Unfortunately, this was not "The End" but only the beginning of the end, with the steepest part yet to come.
Some pics: from previous years: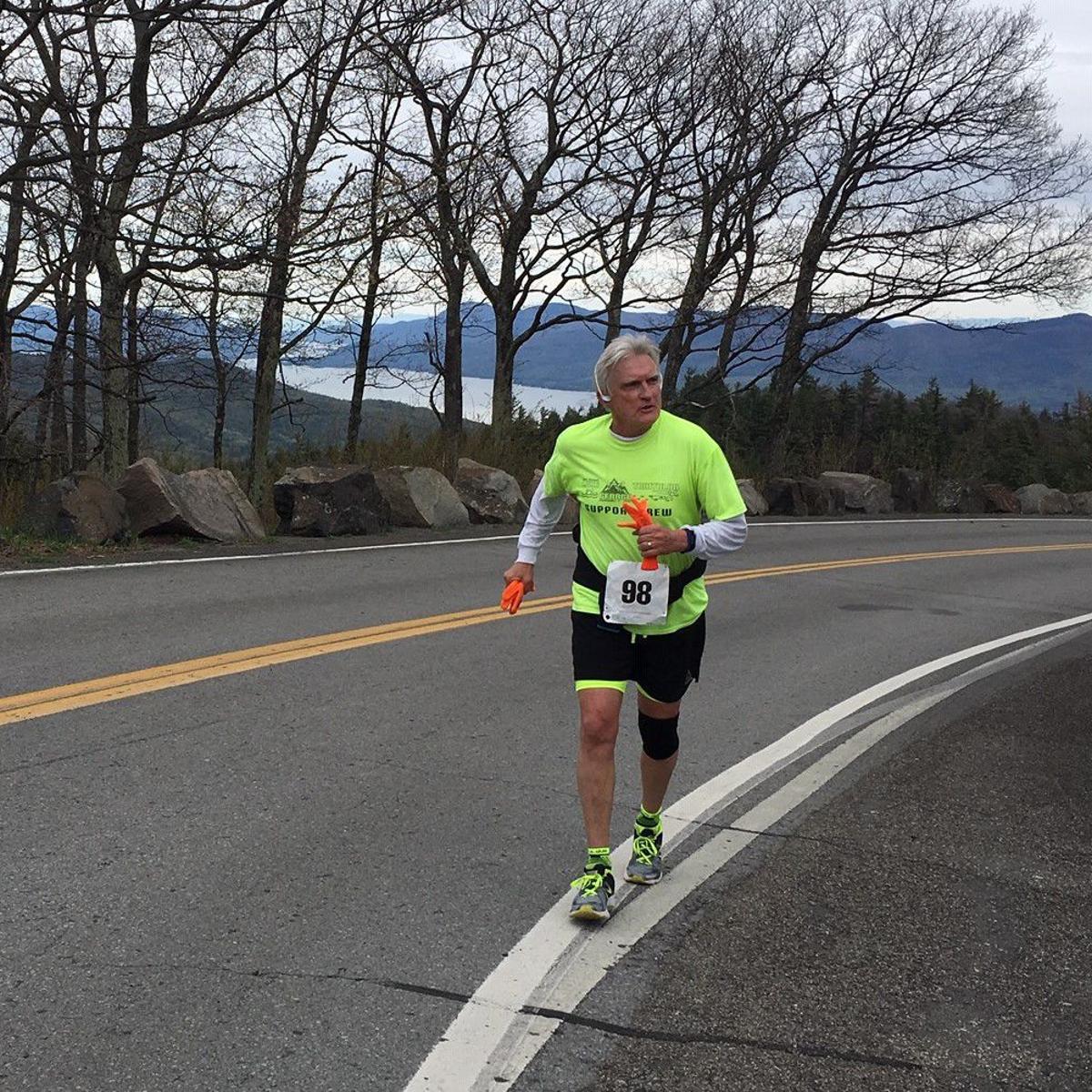 Mile 5.67:
The last climb was the steepest.  Of course, runners that had already finished were heading down the mountain all saying "You're almost there!"
But the hills were not over yet.
I crossed at 1:15:XX (which turned out to be 8 seconds faster than last year.)
After we crossed the finish line, we had to call out our age. So as you crossed, if you won, you were immediately handed a medal.
I came in second but there were only TWO women in my age group.
Post Race Activities:
I spent some time at the top admiring the views. I mean that's why I ran the race, right?
Then I grabbed some refreshments – there was boxes of water, fruit and homemade cookies, breads, muffins, etc. (all were individually packaged.)
I checked out the results –
We all won awards:
Some runners ran down the mountain to get back to their cars. Last year, I jumped at a ride back to my car.
This year, Jenny and I slowly ran/walked down…
We were able to admire the views more than while we were struggling running up.
And happily, I found my discarded items.
I have chatted with Jenny before at several races but today I really got to know her.  Her son and my stepson graduated at the same time from the same high school. And she has completed over 60 marathons!  (Her 50th was in Iceland).
After 12 miles on the legs, we decided that we needed a reward.
Additional Race Reflections:
Last year, the Prospect Mountain Road Race was a first for me. I had no idea what to expect. I had no idea what I was capable of.
I was happy with the results. I did not do any hill training. It was not worth the risk of an injury just to have a faster time. And and I felt perfectly fine the next day.
It was my slowest pace ever in a race but I was proud that I took on the challenge.
This year, I decided to try it again.  And my goals were exactly the same… Have fun!! Stay healthy for upcoming vacation and May 22 Half Marathon.
And both goals were met!!
Positives:
Ample parking at various nearby locations
Easy packet pick-up.
Two Water Stops
Well marked course.
Little traffic since the road was closed to the public.
Beautiful scenery (waterfalls) and views
Lots of course marshals
Mile markers and volunteers calling out times
Well organized.
Familiar faces
Post-race food (boxes of water, fruit and homemade baked goods).
Nice medals for age group awards.
Perfect weather.
Rides offered back down (if you didn't want to run down.)
Carpooling with Jenny
Free ice cream coupon
Negatives:
ONE Big Hill (but it was a mountain race)
Cotton uni-sex shirt
Over-dressed (my fault)
Would I recommend this race?
Yes.
It was super well-organized. Special attention was paid to EVERY detail. It was fun and worth it for the view.
Final Stats:
Gun Time = 1:15:40
Splits:
Next Up:
A sweaty 5k in Fla, followed by a local 3.5m team race and finally a half marathon.