This was my first non-ARE local Pandemic race, It was run by Adirondack Runners with whom before the Pandemic I've run a lot of races.
I signed up for this race (at the last minute) because basically I am a sucker for a race, any race.  Most of friends ran a 5k the weekend before when I was in Florida so I had FOMO.  I also knew that I would know many of the runners at the race from past Adirondack races. It would be fun to re-connect.
I had always been intrigued by this race.  I have driven up the mountain but never walked or hiked to the top.
One of my running friends exclaimed: "You hate hills. That race race is straight up hill. Are you crazy?"
I replied that it was my birthday the next day and I wanted to do something crazy!!
Pre-Race Activities and Preparations:
I had just gotten back from Florida where I ran just a few run/walk miles each day.  All routes were totally flat.
So I definitely was NOT prepared to run up a mountain. But I knew the temps would be much COOLER and I could walk most of it if I had to.
This time of year is tricky to decide what to wear. It could be real spring or what they call in "fake spring."  I tried to remember what I used to wear to race at this time of year.  (I seem to have dressing amnesia.)
The forecast looked wintery. Early morning temps in the 30's with a chance of showers.
So I decided on this:
Race Day:
So I got up early, had my habitual race breakfast (oatmeal & coffee) and hit the road around 7 am.
Of course, the temps now were in the 40s and it seemed that it would not rain and be humid.  (I should have dressed differently).
Race Info:
But due to Covid 19 restrictions, we want you to be aware of how the race may be a little bit different this May, while still fun and challenging. Be assured that our volunteers are fully vaccinated. Though we are not using the indoor Forum venue this year, you may still park your car there and are encouraged to do so. And, as always, you may leave cars at the top before the race as well.

Race number pick-up will be under a tent at the start. If you met the deadline, you may also pick up your shirt at that location. Those who registered prior to April 17 will find all they need in a packet bearing their name. If you registered later, you may pick up your race number and Rob and Deb ice cream $5.00 gift certificate under the tent as well. (I registered at the last minute!)

Two port-a-potties will also be located just inside the gate. . Though we feel that many runners will have been vaccinated, we ask that you wear a mask in the starting area and at pick-up. They may be removed while running, but should be put on again at the top. We encourage you to social distance. We will have two water stops along the way, but feel free to carry your own. At the top will be bottled water, and bagged treats.

Social distancing is encouraged along with mask wearing at the top, while you are enjoying the beautiful vistas.

The finish line will run a little differently as well. Your time will be matched with your order of finish number being recorded by finish line volunteers. I do not believe number tags will be collected. The finish shoot will be extra long to insure that all bib numbers are recorded. Please, as always, stay in finish order while in the shoot.

AWARDS
This will be quite different this year and hopefully efficient as we have no indoor venue and are encouraged to socially distance. Awards and medals will be handed out at the finish. Both male and female overall and age group will be displayed at the end of the shoot. There will be overall awards for the first three male and female runners including sweatshirts and chocolates donated by Saratoga Chocolates. We will give these out as these first runners arrive.

Age group awards will be handed out to the first three runners in each age group at the shoot as well. If one of your three, five- year age group awards remains when you cross the top, a volunteer will give it to you on the spot. It therefore will be important to give us your age audibly as you pass the volunteer. I know this idea is a little zany, but since runners in this race are usually spread out well, we hope our system will work efficiently.
Since I had my vaccines, I wasn't worried about my safety but I am glad that everything was thought out carefully for others.
I arrived around 8 am and the packet pick up was in the Forum parking Lot (not at the start) so that was very convenient.
I was over-dressed and shed my jacket, gloves and arm sleeves.
I didn't even need to wait in the my car to stay warm. I just stood around chatting with the (masked) runners that I knew and hadn't seen in a while.
Soon it was time to walk across the street to the race start.
There was no actual start line.  Everyone just seemed to gather. Everyone was wearing a mask but there was no real social distancing evident (as seen in the photo below).
I had decided to leave my Garmin home since I didn't plan to race it. But I was wearing my Apple Watch. I did start it (not sure why) but never looked at it during the race and even forgot to stop it right away when I finished.
However, I was hoping to at least get the course and elevation from my watch (I should have started Strava) but as you can see, I didn't.
Basically the course was run on Veterans' Memorial Highway from the village of Lake George to the summit of Prospect Mountain and was just under 5.7 miles, climbing a little over 1600 feet in elevation.
Mile 1:
Being that the start was not chip-timed, if I cared I would have started closer to the front of the pack.  But I didn't and as soon as we started, I pulled my gaiter down so I could breathe,
The first mile is mostly flat.  This was the only mile that I didn't have to walk. Still I ran slowly not to tire myself out for the climb to come.
There was a volunteer at each mile marker calling out times. I heard her yell "10:xx."
Mile 2:
The climbing started immediately after the mile 1 mark.  Someone said that it was a 600 foot gain.  And so the walk breaks began.
The scenery was really pretty. Waterfalls lined the rocks on the left side most of the race.
After a steady mile and a half of climbing, the road leveled off near the 2.5-mile mark  I picked up the pace here. It was a short welcome breather.
I think there was the first of the two water stops during this mile, as well.  It was a normal water stop with volunteers handing out cups of water. I was happy not to have to carry a cup or water bottle.
Mile 3:
During this mile, the climbing started again. I knew that I could not run the whole way up but I decided to decrease my walk breaks and run more.
The amazing thing was that there were runners who did not walk at all but they were not far ahead of me.
There was also a guy walking the whole thing and he breezed by me and out of sight!!
It seemed that most of the runners in this race were older and were men.  Many seemed to be around my (slow) pace.  They were walk/running like me and we kept trading leads throughout the race.
Mile 4:
Much of the same. Running as much as I could and walking when I couldn't.
The altitude was making me a little dizzy so I ate a GU and I think that helped.
But basically, there was no respite from the climb.
Some place during this mile was the second water stop. I did stop again. I was getting very warm too (over dressed!!)
Mile 5:
There were the multiple parking areas clustered around the peak. Just before the first lot there is a sign that proclaims "Parking 1000 meters ahead." Unfortunately, this was not "The End" but only the beginning of the end, with the steepest part yet to come.
At this point, I was running with an older women and we saw a orange cone to the right. She said that we needed to go that way to get to the top. As soon as we headed in that direction, other runners yelled to us that we were going the wrong way.  So we had to backtrack and go to the left. That cost me a few precious seconds LOL.
Some pics: from a previous year: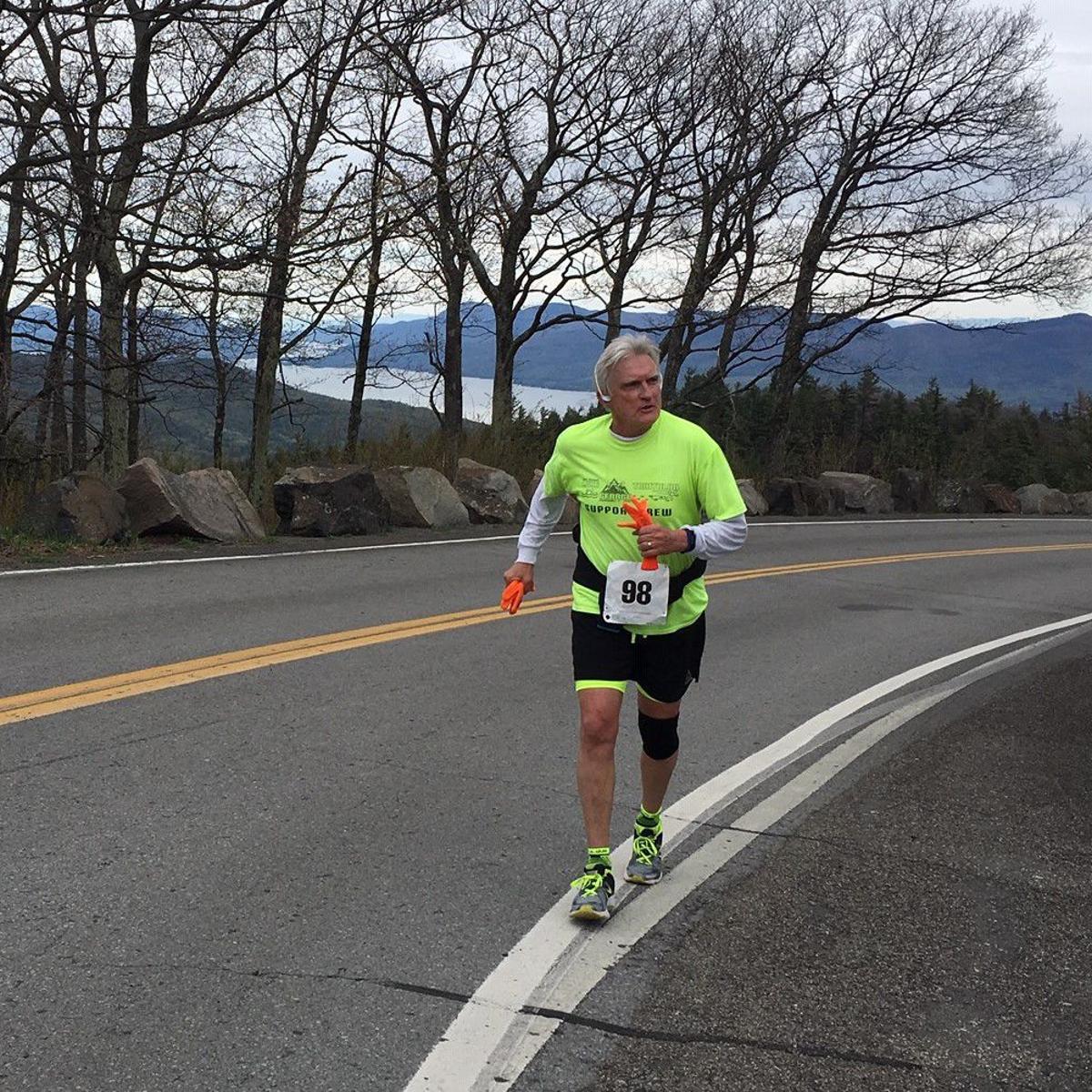 Mile 5.67:
The last climb was the steepest.  Of course, runners that had already finished were heading down the mountain all saying "You're almost there!"
But the hills were not over yet.
I was at that point running with an older man and we were encouraged by the spectators to race each other to the finish line.
I started my kick way too soon and petered out. He beat me!!
After we crossed the finish line, we didn't have to call out our age as indicated above. It was written large on our bibs. So as you crossed, if you won, you were immediately handed a medal.
Surprisingly I came in 3rd (but there were only 4 in my AG).
I spent some time at the top admiring the views. I mean that's why I ran the race, right?
Then I grabbed some refreshments – there was boxes of water, fruit and homemade cookies, breads, muffins, etc.
I checked out the results – at least I didn't come in last.
Age Group Awards:
Several runners actually walked the race (including my friend Sue on the left).
Many runners ran down the mountain to get back to their cars.  I considered it for about a second.
My experience has been that downhill running is harder on the legs.  My legs were feeling good so why chance it.
Someone offered me a ride and I jumped at it.
Then I drove up to Bolton Landing (where we keep our boat.)
I wanted to get in some more miles but instead I just walked and walked. The lake was pretty even on a cloudy day.
I stopped at the outlets, did some grocery shopping and didn't get home until 5 pm.
Just in time to go out to dinner to celebrate my birthday/Mother's Day with my hubby, stepson and his wife.
In hindsight, I think all that walking after the race was the reason why my legs felt so fresh the next day.
6.8 birthday kms. hiked:
Additional Race Reflections:
The Prospect Mountain Road Race was a first for me. I had no idea what to expect. I had no idea what I was capable of.
I was happy with the results. I did not do any hill training. It was not worth the risk of an injury just to have a faster time. And and I felt perfectly fine the next day.
It was my slowest pace ever in a race but I'm proud that I took on the challenge.
And It was so fun to be out there and soak up the racing atmosphere again.
I may even try this one again next year!!
Positives:
Safety restrictions in place (masks).
Ample parking at the start.
Easy packet pick-up.
Two Water Stops
Well marked course.
Little traffic since the road was closed to the public.
Beautiful scenery (waterfalls) and views
Lots of course marshals
Mile markers and volunteers calling out times at each mile
Well organized.
Familiar faces (under the masks).
Post-race food (boxes of water, fruit and homemade baked goods).
Nice medals for age group awards.
Perfect weather.
Rides offered back down to the Forum (if you didn't want to run down.)
A real race.
Negatives:
Would I recommend this race?
Yes.
It was super well-organized. Special attention was paid to EVERY detail. It will be even more fun when there are no COVID restrictions.
Final Stats:
Next Up:
There is a local 5k on May 22 that I signed up for.
I think this was my 5k PR three years ago.
No such speed happening this year. But it was always one of my favorite courses, so why not swallow my pride and give it a shot?