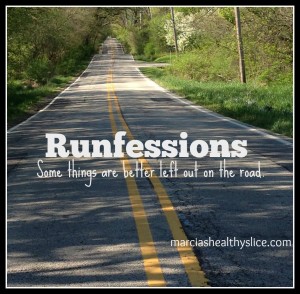 It's that time again. Time to get things off my chest with Marcia's Runfessions at Marcia's Healthy Slice…
1.  I runfess…
Though I created a 9 week training plan for the Brooklyn Half Marathon…
I didn't exactly follow it.
My long runs were: 4, 6, 8, 10, 11, 12 miles for the first 5 weeks (instead of 3, 4, 5, 6, 8).
Sorry. Not sorry.
2.  I runfess…
One of the reasons that I didn't follow the plan was that I actually started running BEFORE March 20 (the day I got the x-ray that my foot had healed.)
Not a lot of miles but running here and there and the foot felt fine.
3. I runfess…
Another reason is that I will be in Florida for week 7's long run.  It will be 90 degrees and humid.  There's no way I will be running 12 miles in that weather.
4. I runfess…
Of course I couldn't resist signing up for my annual 5k race while I'm there.
I can guarantee that there will be NO podium finish this year…
But I'm just happy to be able to run….
5. I runfess…
I've been part of the Freihofer Training Challenge (TC) for years as a runner then as a Race Ambassador.  But through changes in leadership, it had become less useful to me.
This year, I thought that it would be a good idea to be a mentor and to support others who are running this race.
I may be one and done with this.
First they changed the location (farther away, boring path, NO restrooms) and then the Couch25k app that the Beginner group is supposed to use is no longer FREE.
Happy Running! Anything to runfess this month? Please share.
---
It's Friday so I'm also linking up with bloggers, Me (My First 5K and More), Running With Attitude, Run Laugh Eat Pie, Runs with Pugs, and Zenaida!
So Join in!
And don't forget to link back to your hostesses and visit some other blogs!!
Join the link party!
You are invited to the Inlinkz link party!