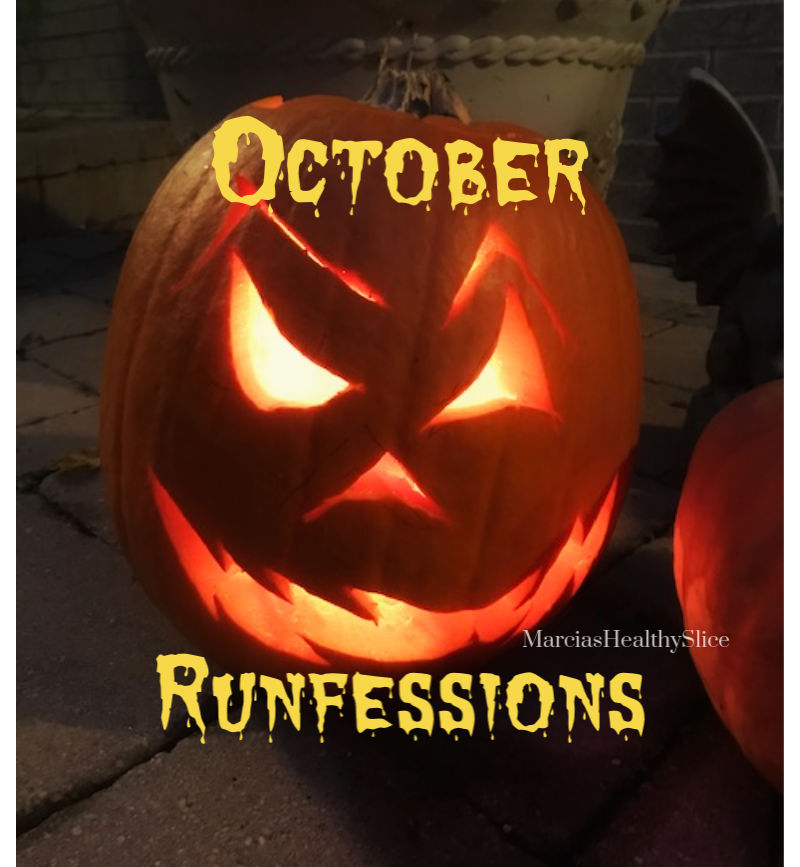 It's that time again. Time to get things off my chest with Marcia's Runfessions at Marcia's Healthy Slice…
1.  I RUNfess… 
You know how they say "Never wear anything new on race day"?
I ordered these new Topos (Specters rather than Phantoms) and they were supposed to come after my last half marathon.
So I planned to test them out on a long run and wear them for my 15K and half marathon races in November.
But the shoes arrived early…
2.  I RUNfess…
I hate tapering.  Before a race, I get antsy and want to run even more.
The week before my last half marathon, I ran SIX days in a row!!
But I did take two days off before the race.
3.  I RUNfess…
I organized a college reunion in NYC …
because I wanted an excuse to run there. (I hope my friends don't read this blog…)
4.  I RUNfess…
I will be limited on my NYC racing because I no longer work in the city and I've used up all my hotel points (unless anyone has any advice on cheap places to stay.)
So my last two stays will be in Dec for this race…
and in March for this one:
5.  I RUNfess…
I bought each of my running friends Maine Marathon mugs as Christmas gifts to motivate them as they trained for our recent race-cation in Maine (or maybe to selfishly have training partners..)
But I forgot to give the mugs to them.
I discovered them when I was packing for the trip so I brought them to Maine.
Happy Running! Anything to RUNfess this month?  Please share!
---
It's Friday so I'm also linking up with bloggers, Me (My First 5K and More), Running With Attitude, Run Laugh Eat Pie, Runs with Pugs, and Zenaida!
So Join in!
And don't forget to link back to your hostesses and visit some other blog
You are invited to the Inlinkz link party!