In 2021, this inaugural race was my second local Pandemic race, It was run by ARE, the same company as the previous race I ran (and the following half marathon).
I signed up again for this 5 mile race because I am a sucker for a race, any race.  Many of my friends have lost interest in racing but I knew that I would know many of the runners at the race from past races. It would be fun to re-connect.
Pre-Race Activities and Preparations:
My speedwork has been non-existent and my pace has slowed to a crawl.  So I entered the race will zero expectations other than being out there running with other runners.
After running THREE half marathons in 5 weeks, I was kinda glad to run a shorter race and cut back on those long runs.
Here was the snag:
Yes, I wavered back n forth. Should I stay home or should I run the race? Will the paths be slippery?  Will the drive home be treacherous?
Although this race was the FIRST big local race of 2022, for me, it was not a big deal.  I had already, as I mentioned, run THREE big races already this year.
I picked up my race packet on Thursday, just in case.
This time of year is tricky to decide what to wear. It could be winter frigid or what they call in "fake spring."  I tried to remember what I used to wear to race at this time of year.  (I seems to have dressing amnesia.)
Past March 5 mile races:
This is what I wore to this race last year (on a cold March day):
In the end, I decided on something very similar:
But of course, with rain/snow in the forecast, I needed to being a rain jacket for before and dry clothes for after.
There were many posts on FB assuring us that things would be safe – ice cleared from the paths, puddles drained, a dry area to gather before and after.
I was not nervous about running the race but I was about driving. So I contacted my friend Lara and asked her if she wanted to carpool.  She accepted and has a large truck and so she agreed to drive, as well.
Race Day:
I got up early, had my habitual race breakfast (oatmeal & coffee) and met Lara at 8am at a nearby park n ride. It was raining and had just started to snow lightly.  Fingers crossed that it wouldn't be too bad until we got home.
I had been to Mohawk Harbor (where the race started) before but I still wanted to leave early. We arrived around 8:30 and parked in casino hotel parking garage. (The race didn't start until 9:30.)
Lara picked up her bib in the first floor of the parking garage. We chatted with some other runners.  There were many (like over 300) crazy runners like me. We were allowed to wait in the casino hotel and use their restrooms.
So we were nice and toasty warm… little did we now what was happening outside.
 We hung out until the last possible moment.
Around 9:25, I had to head to the race start area and shiver with all the other runners. It was snowing and very windy. I was glad that I decided to wear my rain jacket.
Course Map: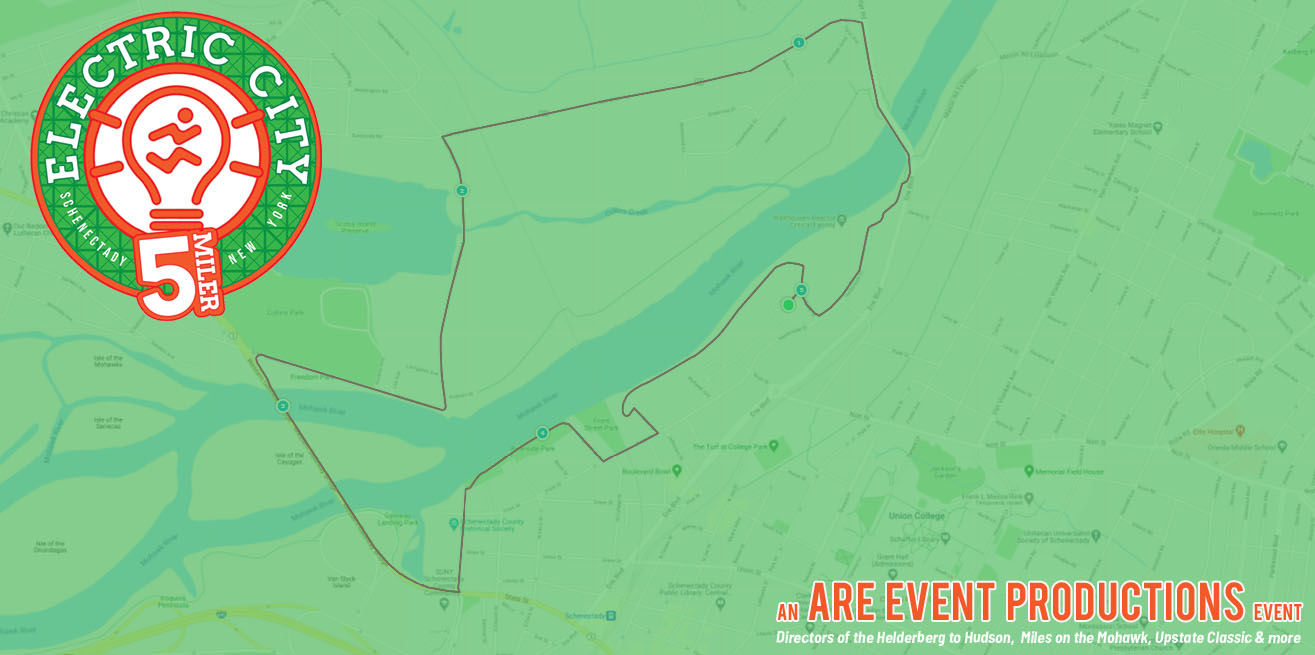 It was advertised as "mostly flat and relatively fast course uniquely includes 2 crossings of the Mohawk River." But we all know that means there are hills. Ii really did not remember the course from last year.
Believe it or not, I actually wore my Garmin, I didn't look at it at all during the race since it was only 5 miles and there were mile markers but no water stops.  But I wanted to see my splits afterward.  My goal was to run consistently but not hard. Not slip and fall!!!
I don't remember the course in detail since it was snowing the whole race and quite slippery.  At times, I just wanted to get done. But it was varied and lots of river views.  If it weren't for the weather, I would have enjoyed the scenery even more.
Mile 1:
I started with Lara and two of her friends.  I ran with them most of the race.
You'll notice in the FB pics below that the faster the runners were, the less clothing they wore…
I must admit that I was cold.  My hands and feet were numb and I didn't warm up until mile 3. I am rarely cold when I run but it was so windy and snow was blowing in my face.
We started out near the water and I think that made it feel even colder. We even crossed the river during this mile.  I made sure that I didn't start out fast. That was very easy since it was slippery and I wanted to make sure that I didn't wipe out.
Mile 2:
It was still windy but not as cold during this mile since we were no longer running along the water.  Of course, there were some hills during the race but nothing that was so steep that I had to walk.  Remember I rarely do any running on hills (except in races, it seems).
And it was snowing harder. I had to run with my eyes closed most of the time since it was stinging my contacts. (I tried wearing my sunglasses but they got covered with snow and that was worse.)
Mile 3:
At one point, we were running on a path and there were big potholes full of mud. The court marshals had thankfully warned us all about it.
This mile has a few downhills and again we headed toward the river. In fact this mile ended on the bridge going over the Mohawk River. I continued running slowly and there were a few times that I almost fell but caught myself.
Mile 4:
The bridge was uphill but then there was a nice downhill.  We were also finally running with the wind at our backs.  I almost warmed up.  (I may have taken off my gloves at this point.) Of course, one of the course marshals announced that "it was downhill from here." Not true. It's never true. Next we ran through the old Stockade area before we hit riverside again.
At this point, there were actually runners who had finished and were re-running the course in the opposite direction (Huh?!)
Mile 5:
I felt like I was getting slower but I hadn't walked yet. There were no water stops so no temptation to walk. I considered walking for a bit now since it might have given me a second wind. But I wanted to get to the finish line and get out of the miserable weather so I just kept going.
Finally the finish line was in sight. I ran as fast as I could in the slippery icy snow.
As I crossed, the RD, Josh (who knows everyone's name) announced my name and said he hoped to see a recap of this race on my blog!?  (I really didn't think most people knew I have I blog, not even my hubby is aware.)
Post Race Activities:
It was too nasty to hang out and cheer on the other runners so I took a quick pic of Lara and her friends
and we went inside the parking garage to take some goofy pics
and get some refreshments.  Last year at this race, you were given a boxed lunch but today instead, there were tables of pastries, muffins and quiches
We headed back inside to the casino hotel where it was warm so we could to eat and chat about the race.
We all agreed that it was fun in spite of the weather.
Additional Race Reflections:
This was the first local race of 2022.  Most of our races are coming back.  There is still some hesitation by some runners.  It was so fun to be out there and soak up the racing atmosphere again. Now if only, we could get some mild sunny temps for a race…
Positives:
Discount to ARE members
Optional race shirt.
Participant manual and lots info before the race
Ample parking.
Real restrooms (in Casino Hotel)
Dry, warm place to hang out before and after the race.
Well marked course.
Varied scenery including river views
Lots of course marshals
A real race.
Well organized.
Familiar faces
Free photos
Post-race food
Negatives:
No water stops (in this weather though, it was not necessary)
The Wind!
The Snow!
No age group awards.
Post-race food (my preference would be bagels, fruit & chocolate milk)
Would I recommend this race?
Yes.
It was super well-organized. Special attention was paid to EVERY detail. It will be even more fun when there are nicer weather conditions.
Final Stats:
Obviously this was a 5 mile PW. Almost 4 minutes slower than last year and about 7 minutes slower than my PR.  I blame mostly the weather.
Splits:
In fact, I was thrilled with my time.  I wasn't expecting much.  I did exactly what I had planned.  Just ran… slowly. I wasn't ever tired so I definitely think I could have run faster.  But there didn't seem to be a reason to.  No age group awards.  It was slippery. I was just running for me and because it makes me feel good to race.
The drive home was pretty scary.  I was relieved that I was not driving.  We passed many cars that had gone off the road.
I arrived home safely.
and enjoyed a nice long shower and some hot chocolate in front of the fireplace.
I obviously would not be running more miles for a long run.  That would be postponed until the next day when hopefully, it would be warmer, less windy and the roads cleared.
Next Up:
I plan to run a Virtual Half Marathon next weekend.
Then another 5 miler in two weeks and a 5 miler a month later (both were cancelled in 2020 and 2021 so this is very exciting).
Then in between, there's the Druthers Helderberg to Hudson Half Marathon (on its original downhill course).