And just like that… It's over. First big race of the year.
And appropriately it was held in my favorite city – New York!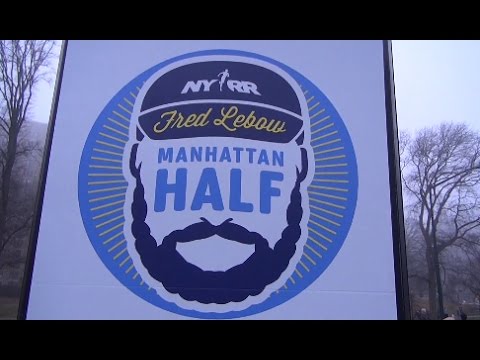 Last Week:
Sunday – I celebrated two anniversaries today:
with a frigid long taper run:
and a hike along a creek:
Monday – I t was Martin Luther King Day so I had the day off from work but the weather didn't get the message. I woke up to this:
But when I looked at the temps and the salt truck had gone by twice, I strapped on my yaktrax and off I ran.
I spent the rest the day baking, cooking, cleaning… much more tiring than the run…
Tuesday  – Just a few snowflakes today but very windy.  I had some time so I drove to get my lunch time run done.
Wednesday –  Holy Wind!! But too busy with work to run at lunch anyway.
But it was almost 40 degrees so I rushed over to UAlbany after work to run a loop before meeting friends for an outdoor mall mall.
Thursday – Colder temps were headed our way so I decided to get one last run in before the race. And a before work one at that…
Friday – Brrr… the single digits were back.  (0 zero when I got up!!) Rest day. The first one this week. It was well deserved.
I packed, stalked the NYC weather one last time and then played mah jongg.
Saturday – I got up bright and early and took the train to NYC. Of course, I like to stay busy while I'm there so after I checked into my hotel, I went out to lunch and then a Broadway show.  I had tickets for To Kill a Mockingbird (which I really wanted to see) but the show closed and I had to switch my tickets.
After the show, I went for a walk, had dinner and called it an early night.
Sunday –  Race Day!  Fred LeBow Half Marathon!
I ran it and finished smiling… in between, there was a lot of grimacing on all those big HILLS!!
Even better than a race in NYC was a meet-up with friends Cari and Elizabeth.
This Coming Week on the Run– 
Monday – rest day, walk
Tuesday – run, walk with friends
Wednesday – run
Thursday – run, walk with BFF
Friday -rest day, walk, mah jongg
Saturday – Long Run  (training for another half marathon on 2/13)
Sunday – rest day, hiking
This Coming Week on the Blog – 
Tuesday – Hiking 2021 Update
Friday – Runfessions
---
I am linking up with Kim and Deborah for
I encourage you to do the same. Grab the graphic, drop your link on the host blogs and play along! Please be sure to always comment on the HOST's blogs, as well as visit and comment on as many other blogs as you can.
Happy Running! How is your running going? Any in-person races planned for 2022?  Have you ever raced in NYC?  What is your favorite city to run in? Please share.