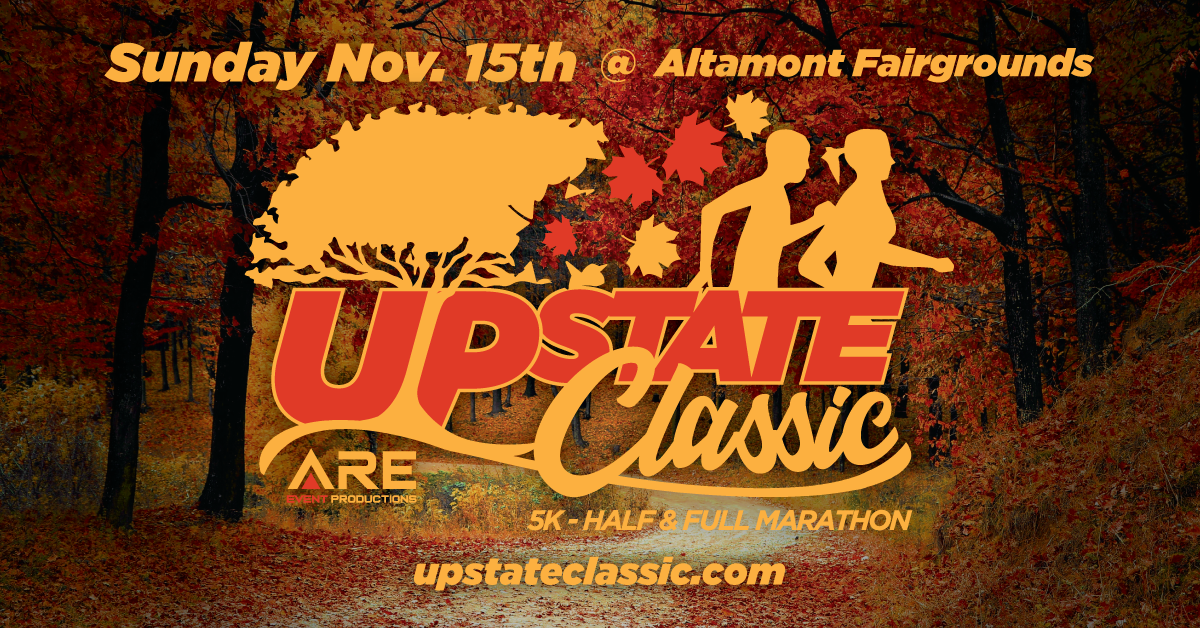 This was NOT a half marathon that I planned on nor one I had signed up for way in advance.  It was a first time half marathon scheduled only because ALL other local races had been cancelled. The restrictions were the same for the H2H Half Marathon in August (that I ran virtually.)
So I signed up for the Upstate Classic Half Marathon for several reasons:
I hadn't run a "real" half marathon since February – 9 months!!!
It was local and I could sleep in my own bed the night before.
It was local so I would know a lot of the runners.
I was curious to see how I would do having run so slow all summer.
With all the new restrictions, I felt that it would be safe.
I am nuts!!!
Half Marathon Training:
If you follow my posts, you also know that I am not strict about following a training plan. For 2020, I had the ambitious goal of running 12 Half Marathons – one each month.
During my first two 2020 Half Marathons in January and February, I experienced a lot of foot pain. I ran them but truthfully, it was not fun at the time (except for the fact that I was in NYC and then Bermuda.)
And then the March NYC Half Marathon was cancelled due to the pandemic so I ran that for fun with two friends. The pandemic continued. Races were being postponed until Fall one by one.  I ran the April Helderberg to Hudson and May Steel Rail Half Marathons "virtually" and by myself. Again no fun!!
No more half marathons during June, July, August and September. (I deferred my August half to 2021 and got refunds for both September half marathons when they went virtual.) Eventually my October half marathon as expected went virtual.  But with NO refund or deferral option, I ran another virtual half marathon (however this time in NH with friends).  I also signed up for and ran the ZOOMA Amelia Island Half Marathon as a virtual one.
The difference in the training cycle for this race was that I ran part or all of my long runs solo.
Pre-Race Activities and Preparations:
The last day I ran was Thursday so I took two days off from running. Of course, there was walking (I can't just sit around).
Packet pick up was easy peasy.  Just went to the race headquarters, drove in, gave them my bib #, rolled down the passenger window and someone masked gave me a bag with my bib, and shirt.
I did my usual carb loading of pizza the night before and tried to figure out what to wear.  It was forecast to be cold with a chance of rain later in the morning.  I hate being overdressed (and was tempted to even wear a skirt) but with the threat of rain, I reluctantly chose a beanie, long sleeved shirt, vest, DIY arm sleeves, capris/skirt, compression calf sleeves and gloves.
My biggest dilemma was what to do about water.  I hate to carry my water bottle but there would be no cups of water provided on the course, only table to fill up your own bottle.
In the end, I decided on a small water bottle and I squeezed it into my pocket. At the last minute, I grabbed a paper cup, flattened it and put that in my other pocket.
Race Day:
I woke up early and ate my race breakfast of oatmeal and coffee. My start time was 9:07 and I had to be in my corral by 9:00 am. I left my house around 7:45 am and tried decide what my race plan would be on the drive over.
For the last few virtual halfs, I have been running 45:30 intervals at around a 13-14 mi. pace. Since then I've been running on my own with my usual run until I'm tired and walk.  Much more walking than I used to do.  At times I have run with friends at 4, 3, or 2:1 intervals.  Still at a very slow pace. I have to admit that I have enjoyed these runs.  I never felt tired when I was done.
So the plan???
HM PR – 2:06:52
Last "real" HM – 2:23:21
Last virtual HM – 2:55ish (didn't wear a watch)
First Pandemic HM – Just finish.  No time goal!! (prediction – 2:35:00)
The course:
A loop starting and ending in the same location.
and not flat… at all:
My last real half marathon in Bermuda (in Feb) was hilly.  Since then, ALL my running has been on FLAT roads.
Although this was a "real" race, there were many changes from a half (organized by this company) that was held in April of 2019:
I understood all the restrictions and I am grateful for the opportunity to race. I was not worried about catching COVID.
My last concern was my damn foot.  Bunion, neuroma, hammer toe…. I've had pain on and off for almost a year.  It's much better than it had been back last Dec-Feb but it still hurts from time to time.  Sometimes a lot, sometimes just a little.   You never know and I know there are much worse things to worry about so I run. I walk, I hike.
Anyway, here's how the race went:
I used my GPS to get to the race location, Altamont Fairgrounds. Well, it took me to the wrong entrance for the race. It was blocked but luckily they let me in.  That meant I was coming from the opposite direction and did not have to wait in the long line of cars (the ones that entered the correct way lol). And I got to preview the first 5 miles of the course.
The parking lot was huge. I parked and as soon as I was ready to leave my car, it started to rain.  WTH? It was forecasted to rain later!! And then it started sleeting.  I forgot to mention that it was skirt weather earlier this week and this morning it was in the 20s. Brrrrr.
I waited in my car as long as I could.  I saw one of my friends, Karen, and we headed in together.
We were both in the same wave so we hung out trying to stay dry.
There were 14 waves. Karen and I were in wave 13.  I started in position I in my wave and Karen further back. Groups of four started every 10 seconds. The first wave had started at 8:30 am. A littler before 9:00, they called our wave and we headed over.
Miles 1-3:
I did wear my Garmin watch but I was debating whether or not to use it.  As I mentioned above, the start of each wave proceeded very quickly. Before I knew it, I was crossing the start line (around 9:07ish).
Nope. I DID NOT start my watch. I have only run a half marathon once without timing it and that was only because my watch stopped working.  But I just wanted to relax and not worry about my time. I feared that my pace would be so slow that I would get stressed and not enjoy t he race.
The rain fortunately had stopped but it was still chilly. But actually perfect running temps if you dressed appropriately.  I think I did. But I spent the first part of the first mile, rearranging things in my pockets. I had two in my vest and two in the skirt and I kept switching things until I was comfortable.  Karen who started after me, quickly passed me by.  I was not surprised as she has been running fairly fast paces lately.
It was weird looking down at my watch and remembering that I could not tell my pace.  I did get used to it after a while but every now and then, I'd look out of habit.
Normally in a half marathon, I would run and walk only at the water stops which used to be every 2 miles and every mile toward the end.  Here the first water stop was not until around mile 3. I doubted that I could wait until then to walk (and I was right,)
The 5k race started after the half and it wasn't long before the speedsters were passing me by.  I was glad to get past their turn around point.
I tried to start out slowly but probably it was not slow enough.  Around mile 2, it already started to get hard…hills.  Not as bad as they would get later. Now they were just rolling ones.
I was not familiar with this course at all but obviously since we were running on roads, there were cars. You were supposed to run on the shoulder but it was slanted and I found it awkward. So I ran toward the middle of the road until a car came by.  I was more comfortable that way. But the negative was not running the tangents. 😦
Miles 3- 6.2:
I stopped at the first water stop and a volunteer filled up my paper cup.  Best idea ever.  I used that same cup the whole race. I wasn't hungry yet so I waited a mile to eat my GU.
Around mile 4, we passed by Indian Ladder Farms and the smell of fresh cider donuts filled the air. But the wind took my mind off of it.  It became insanely windy for the next 1.5 miles.  Of course, we were running into that wind until the next turn. Ugh!
The rolling hills continued.  As expected, my foot was hurting. But it is what it is.  I taped it but that tape seemed to be starting to cause a blister. Oy!
The hills ceased to roll and started to become steep hills.  Those type of hills where it was even hard to walk up them.  But walk I did and trying to pick up the pace on the downhill.
Miles 6.2-8.75
Every now and then I would glance at my watch. Though I had no idea what my pace was, I could tell approximately how long I had been running.  My pace was by no means fast but considering all the walking, it was not as bad as I feared.
The second water stop was around the 10k point and again, I had my paper cup filled.
The big hills seems to more frequent the second half of the race.
The leader of the full marathon passed me around mile 7 and he was flying. (He finished the around 2:30!!)
Around mile 8, I ate another GU.  I never really felt hungry during the race but knew I should fuel.
Miles 8.75 – 11.1
It think there was another water stop around mile 8.75. I'm sure that I stopped and refilled my cup.
The race continued the same way.  My blister was starting to get painful but there wasn't much I could do about it. I focused on the scenery which was very pretty…farms, mountain views, etc.
The course marshals were very enthusiastic. I knew many of them.  There were some families camped out in their driveways.  But for the most part, we were running on the roads in the country… no place for spectators.
At one point during this stretch, a runner starting talking to me.  He and I were both struggling with the hills.  This was his first race since he ran a marathon like 15 years ago. I tried to encourage him and then ran ahead.
Miles 11.1-13.3
More hills. They never seemed to end.  And one last water stop.  I just wanted to finish so I skipped it. I never ate my last GU either.
I finally saw my friend Jenn who was volunteering at mile 12.
Mile 13 seemed like a full marathon.  The wind picked up.  My legs just died. To make matters worse, there was one hill after another.  I walked most of this mile so that I could sprint across the finish line and not embarrass myself.
And like that I was done.  Of course, the clock showed the finish time for those who started at 8:30 am. I had no idea how I did until I looked on the website (There was live tracking).
I immediately got my food – a boxed lunch.
But it was too cold to hang out. I immediately headed to my car while chatting with some of the runners that I knew.
Additional Race Reflections:
It seems that my recap above was a bunch of complaints.  But on the whole, the race was a really good experience. I have zero regrets in running it.
In fact, my time was a lot better than I expected.  It gives me hope that I could improve upon it on a flatter course.
The Good:
A Live Race!!!
Connecting with local runners.
Felt safe with the provided restrictions.
Decent post race food. (box lunch of pre-ordered sandwich, apple, brownie)
Well organized.
Lots of pre-race information
Easy packet pick up
Ample parking
Enthusiastic volunteers (even with the cold weather)
Live tracking for others to follow runners and runners to get immediate results
Free photos (more coming)
A live race!!!
The Bad:
Hilly Course.
Cold, windy weather.
No water provided (unless you carried your own bottle).
Many restrictions (though necessary due to Covid-19).
No Age Group awards
Most of my running friends did not participate.
Not trained for hills or racing (my fault).
My sore foot (expected) & blister.
The Ugly:
Would I recommend this race?
Sure.  But I prefer the real (downhill) course and to have it scheduled in April
and the Stockade-athon 15k to be held as usual this weekend.
Next Up:
Hopefully in February, I will run a half marathon in Florida.
Final Thoughts:
2020 has been a crazy year.  Six virtual half marathons.  Not how I planned it.  Nor would I ever race a half marathon not thinking about my finish time (and not even timing it!!)
With all the pandemic restrictions, it was not the race that I would have planned to run but I did it.
Now I am really anxious to run a one without any annoying restrictions!!
In the sunshine…no hills 🙂