It's that time again. Time to get things off my chest with Marcia's Runfessions at Marcia's Healthy Slice…
I swear I just wrote these…times flies!!!
1. I runfess…
I always race with compression calf sleeves (even in the summer).  I also run all my long training runs with them.  So what was I thinking when I decided not to wear them during my recent half marathon??
It was warm, humid and raining. I thought about going back to my car to put them on and then in the end, I did not.
Do you wear compression sock or sleeves when you run?
2. I runfess…
Even though I experienced discomfort in my leg (either from not wearing compression during my half marathon or walking for hours in a garden after or climbing dunes on the beach), I ran while I was in NYC for work.  I did run slow and walk often. But I just couldn't skip it.
Would you run in NYC if you "might" be injured?
3. I runfess…
I had a long run scheduled for last Saturday.  A 10 miler. I always run with my running friends but none of them were free to run. I hate running alone so I skipped the run.  Yes, if they had been free I probably would have run even though I shouldn't have.
However, I carb loaded (as If I ran those 10 miles) later at a birthday party.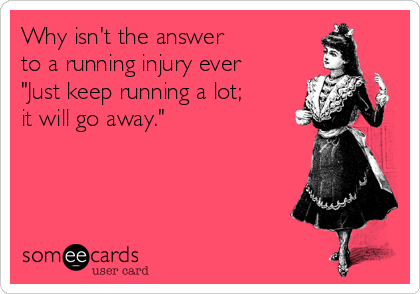 Anyone else ignore aches and pains when they have to train for a big race?
4. I runfess…
On Sunday, luckily I had signed up to volunteer at a local race.  Phew! I couldn't race even if I wanted to.  I enjoyed it though I was freezing and worried that I would tell runners the wrong way to go.  Of course, I shared my running injury story.  Everyone had different advice.
Some said "Just rest." Some said "See a Doctor."  Some said "PT."  Others said "Get a Massage." Even some said "Sounds like nothing serious."
Anyone ask other runners for injury advice? How do you decide whose advice to follow?
5. I runfess…
Rest is not something I'm good at. Who is?
So I was anxious to get this leg thing fixed and decided to take a coach's advice and see a chiropractor to get ART. It's a big deal for me who has never gotten a massage or seen a chiropractor or even foam rolled.
I had my first session and have 3 more scheduled.  She seems to think that it was walking on the beach that strained overworked muscles and that it is not serious.
She worked on my leg as well as my lower back.
Fingered crossed that I can run again soon.  NYC HALF IS IN 3 WEEKS!!!!
Ever get ART? If so, did it work?
---