I signed up to run the Half Marathon ages ago and then convinced some friends to join me.  Then on a whim, I signed up to run this 5k the day before. I figured why not?  Instead of one medal, I could get three!!
However, that meant that I had to spend two nights in Montreal but my friends were agreeable and we all stayed in the same hotel (and even had adjoining rooms.)
Things worked out even better when my roomie got injured and switched to the 10k.  We both would be racing on Saturday and could go to the start together.
Pre-Race Activities and Preparations:
So on Friday, we all drove to Montreal (two others would be joining us on Saturday). A 3 hour drive that took 5 LOL. We checked into our hotel and though we were hungry, we instead headed straight to the expo.
(I'm going to more details about the whole RnR Montreal experience in my half marathon recap.)
We picked up our bibs and wandered around the expo.
Since it was too late to have lunch, we went back to hotel to drop off our stuff and change for dinner.  We walked to the Old City and had a delicious dinner (at Jardin Nelson). I ate as if I was running 13 miles the next instead of 3!! (But it was worth every calorie!)
Back at the hotel, I set out my racing outfit and tried to get to sleep early.
Race Day:
Alarm set for 6:00 am. After much debate, we decided to leave for the race at 7:00 am. (The 5k race started at 8:00 am and the 10K at 8:30 am.) I had originally picked our hotel because it was close to the subway.  They changed the course from past years and it now started about a 10 minute walk from our hotel!! 🙂
I brought my usual race breakfast of oatmeal and coffee with me and ate in the hotel room.
I debated about what to wear due to the chilly predicted temps and wind and eventually changed from the cute tank (in the above pic) to a short-sleeved shirt, added DIY arm warmers, and a throw away long sleeved shirt.
We made plans with the others on where to meet after the race (The Family Meet-up section by the letter S).
Then we wandered down to the start line. I tossed my long-sleeved shirt but Jeri decided to take it since she didn't have anything to keep warm. (My DIY arm warmers worked great – just $1 knee socks cut down).
We also noticed that there didn't seem to be any meet up area.  The only letters we could see were in the starting area  and they spelled M O N T R E A L.  Jeri texted the others a new spot to meet-up (not far from our hotel & the finish line).
Then all of a sudden, I looked up and saw a runner (Tina) that I knew from home. She said that she just looked for a skirt (I may have been the only one LOL). We hung out until almost start time. She drove all the way to Montreal just for the 5k.
I was actually listed to be in Corral 1 (who knows why?) but I decided since I was planning to walk to move back a coral or two.
Below is the course map:
My plan for this race was just get a medal.  I didn't wear a watch — on purpose!  I wanted to not know my time/pace and actually enjoy the race and look at the scenery.
Mile 1
So I waited in the crowd until my Corral actually moved.  It was very crowded (about 2000 runners) which was great.  I started to run slowly weaving in and out  so that I could get some space to walk.  Well, as you may have guessed, I never walked.  But I did run slowly.
I looked at EVERYTHING on the course!!! The first mile was through the theatre district on a street that was unfamiliar to me. The sun came out and I pulled down my arm warmers but just shoved them under my skirt rather than tossing them.
You could hear music the entire time.
Mile 2
Unfortunately I don't remember a lot of the course.  We did take several turns during mile 2 and I do remember seeing the Bio Dome in the distance. The view was pretty.
There was a water stop during this mile but I didn't even stop. Music continued for this mile as well.
Miles 3
The last mile was down Ste Catherine Street,  It was decorated with pink balls strewn across the street.  I wish I had taken a picture (found the one below so you get the idea).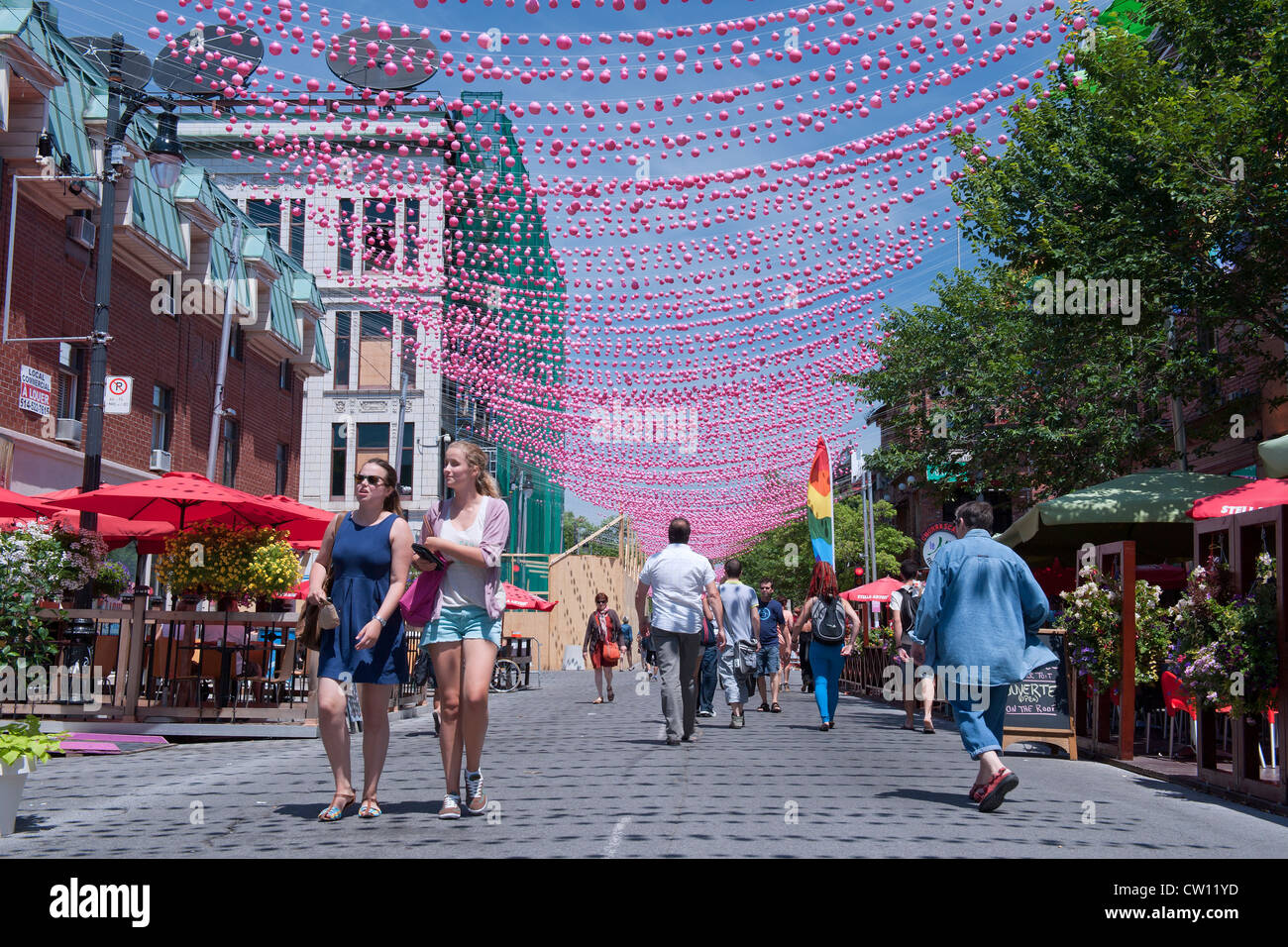 Finally I approached the finish line. It was kinda anti-climactic since I was running so slowly.  I crossed in a sprint, of course.  I had no idea what my time was and didn't care.
I felt like it was my best race ever because I thoroughly enjoyed myself.  I was wishing that I could run every race that way.  But I knew that I could not. I am too competitive.
You were ushered through the crowd and eventually were handed your medal and then eventually, I found a cup of water.  No big deal since I wasn't thirsty or drown in sweat.  I was cold.
I wandered around the finish area looking for food.  I found a line to get free socks so waited on it. Then I found a  Kind bar sample and the Kind reps gave everyone a flower.
I finally left the area in search of my friends so we could watch my roomie finish her 10K.  I walked to our chosen meet up and they weren't there but I bumped into my friend Tina again. I texted my friends to see where they were and it turned out they were on the other side of the street.  Eventually they got daring enough to run across the race course LOL.
They completely missed me approaching the finish line but then again, I told them around 45 minutes in because I would be walking. My fault.
Soon we saw Jeri pass on her way to finish the 10k.
I won't go into all the details but after many texts, we located Jeri and we all went back to the hotel together to plan the rest of our day.
FOOD, of course…
The next day was the big race.
Additional Race Reflections:
I was glad that I did this 5K race.  I am also happy that I didn't race it. Of course when I saw that I was 4th, I did regret it..a teeny bit.
The course was flat and you ran down parts of the city that were different from the half or full. You got a medal for a 5k (that is rare where I live) and it enabled me to get a third medal for running the half as well as the 5k.
Music played for the whole 3 miles and a different band for each mile. That made the miles more enjoyable.
No food at the finish but I did get free socks and a flower.  'll reserve all my critique for the organization of the race series and the post-finish experience for my half marathon race recap.
Final Stats:
---
It's Tuesday so don't forget to link up with these wonderful ladies:
Erika @ MCM Mama Runs, Marcia @ Marcia's Healthy Slice and Patty @ My no-guilt life
I am also joining up with Running on Happy, Suzlyfe, Crazy Running Girl, and Coach Debbie Runs for the Coaches' Corner linkup
Happy Running!  Have you ever run two races in one weekend?  Ever run a race JUST FOR FUN?
____________
Disclaimer: I received a free entry to the Rock 'N Roll Montreal 5k as part of being a Rock n Blogger.