Every Friday, three DC area bloggers Mar at Mar On the Run, Cynthia at You Signed Up For What?! and Courtney from Eat Pray Run, DC to host the Friday Five linkup.  Anyone can join with their own Friday Five post (yes, it must be a Friday Five!!)  They encourage you to visit other blogs on the linkup, comment, share and engage!
My Friday Five topic  is:  Five Reasons To Mentor New Runners
Finding New Places To Run
When I volunteered in the STEM program in 2014, I ran around Union College in Schenectady.   I have run at UAlbany but Union College was a nice change of scenery.
The second time, last fall, I discovered the Schuyler Flats park. (The group also ran on the Schenectady Bike Path)
For the GOTR practice 5k, I ran in a new local neighborhood. I have since gone back to run there.
2. Meeting New People
The other mentors in the STEM program are awesome. It's always fun to meet other runners. We bonded instantly.I am looking forward to meet this year's mentors.
I haven't had as much contact with the running buddies in GOTR but the ones I have met were very nice.
3. Fits into your Running Schedule
I run after work anyway.  So my STEM runs fit right in. Yes, they are walk run but often, I get there early and run a few miles or I stay afterward to run.  It causes no lapses in my training.
4. Making a Difference in Someone Else's Life
I can't explain how it feels to watch women who have suffered so much in their lives be successful.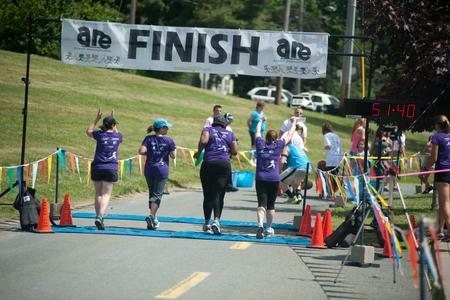 And to see the joy young girls get from participating in their first race.
I actually did so little but hopefully me being at their practices and races did make a difference.
5. It's motivating.
New runners' enthusiasm for running is contagious.  It actually makes me want to run more.
The picture above was from my first mentoring experience in 2010. They were a bunch of young mothers running their first 5k. These ladies actually are responsible for me pushing myself to try a half marathon.
Happy Running! Have you ever mentored a new runner? If so, how did you benefit?