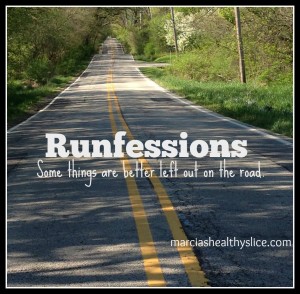 It's that time again. Time to get things off my chest with Marcia's Runfessions at Marcia's Healthy Slice…
Very happy to be running consistently again. You can't RUNfess if you don't run, right?
But this month, I actually started racing so these will be RACEfessions instead.
1.  I racefess…
I had decided to focus on recovery and training for my May half marathon.
But it sure was hard to pass up all those shorter races that I normally run each year…
Yes, I skipped 6 races.
2.  I racefess…
I planned on running the Tropicool 5k when I was in Florida.  I even paid for it.
It involved having a friend get up early to drive me to the start (after a late night out) and another to pick me up.
I just had zero mojo to do it this year.
So my $$ went to their charity and I ran in the 'hood instead.
3. I racefess…
Each year, I've done this race, I've placed in the Grand Master Category.
My previous finish times have been: 29:07, 28:14, 27:28, 27:31.
No surprise that I checked the results for this year:
I guess everyone has gotten slower, including ME!!
4. I racefess…
I will have to force myself to the start line because I am so over DNSing races that I've paid for.
06-03-23 – Freihofer Run for Women 5k
06-17-23 – Valley Cats 5k
06-24-23 – Adirondack 7M Race to the Lakes
07-04-23 – Firecracker 4
07-15-23 – Silks n Satins 5k
08-13-23 – Run for the Roses 5k
I'm in a new age group so my finish time should be slower, right? I need to toss my ego out the door.
5. I racefess…
I said, of course, that I just wanted my foot to heal and be able to run again. And that my snail's pace did not bother me.
That being said, I was elated to finish the Brooklyn Half Marathon fast enough to qualify for the 2024 NYC Marathon.
My running friends didn't get in the 2023 lottery but they plan to run the NYC Marathon in 2024.  Now I'll have the option to join them.
Happy Running! Anything to run or racefess this month? Please share.
---
It's Friday so I'm also linking up with bloggers, Me (My First 5K and More), Running With Attitude, Run Laugh Eat Pie, Runs with Pugs, and Zenaida!
So Join in!
And don't forget to link back to your hostesses and visit some other blogs!!
Join the link party!
You are invited to the Inlinkz link party!
https://fresh.inlinkz.com/js/widget/load.js?id=c0efdbe6b4add43dd7ef