This race used to be one of my favorites. Not because the director, Paul Loomis, reads my blog or that my stepson works at Global Foundries, one of the sponsors of the race. But because of the easy parking, indoor restrooms, post race chocolate milk, generous age group awards, lots of familiar faces to run with and its flawless organization.  For these reasons and more, I kept coming back.
This was my 7th time running the 5k. So you can say that I was familiar with this course. I skipped 2017-2020 but I did run it last year. And now they also added a 10k.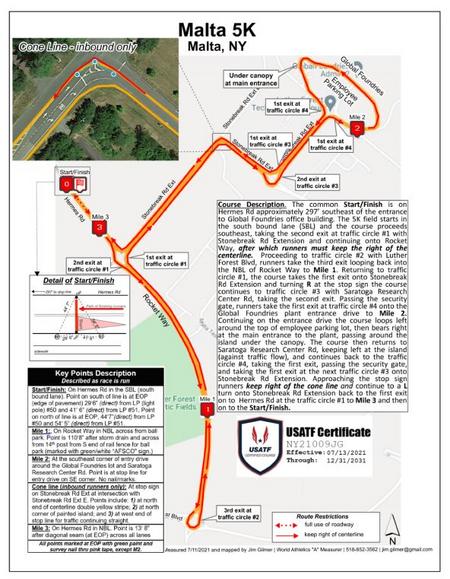 The course itself is not very exciting…you are running around chip plants but twice during the race, the loops let you see the fast runners and all those runners that are behind you. And though there are a few uphills and downhills, it's basically flat so no complaints.
For my first two years of running this race, I was recovering from injuries (a broken ankle and then a broken foot.) I finished in 29:53 and 29:49 and was thrilled with a sub-30 minute time.  In 2014 and 2015, I was healthy and so I improved my time to 28:47 and 28:56. Finally I got a course PR in 2016 and finished in 27:30. As I mentioned, I took a break and then last year when I ran it, I finished in 28:15.
However, my hope for the race this year was to finish uninjured and have enough in the tank to run more miles after the race. (My next half marathon is 3 weeks away!!!)
Based on my recent 5k efforts, I had no PR dreams as old age has set in. LOL. But if the other old ladies didn't show up, I could maybe win an AG award.
Pre-Race Activities and Preparations:
Surprisingly I had time to run 3 times during week in spite of the rain and a flu shot.
My legs felt pretty good even though it was only a week after running 13.1 miles.
Packet pick-up was on Thursday and Friday at the local Fleet feet store but it wasn't worth the long drive so I decided to arrive early and pick it up on race day.
Race Day:
The forecast was for cooler weather and sunshine. Perfect running weather for the second weekend in a row. Hope this is a trend.
I got there early to get parking and did get a spot in the parking lot right near the exit.  I'm glad I got there when I did because the lots really filled up quickly. There seemed to be more runners this year.
As I've mentioned, it is very well-organized – signs for the race, indoor and outdoor bathrooms
Race day packet pick-up was between 7-8 am. You received a bag with shirt (if you paid an extra $10),and a bag of Death Wish coffee. I opted not to buy a shirt.
PPU was normally set up inside but it was outside again this year (still seeing some COVID adjustments)..
The 5k race started at 8:30 am (15 minutes after the 10k.) So I walked around to shake out the legs.
There was food, drinks and freebies set up. I grabbed a bag and filled it with some useful stuff.
This was a welcome sight:
and this:
I had so much extra time before the 5k started that I ran around to squeeze in a mile before the race.
There was also a table with representatives from Saucony. You could try a pair of their newest running shoes.  I sure was tempted and many runners did.  But I don't think they have a wide enough toe box so I guess I'm stuck with Topos, for now.
Finally I headed to the start line.
I remembered that although it was chip-timed, awards were given according to gun time.  So I moved up but of course, not too close to the starting line. I chatted with a woman who complained that she was getting so slow (She is not and she won my age group. LOL). We also talked about last weekend's half marathon (which she DNS'd).
Mile 1:
As usual, I tried to start out slow but didn't.  It again was my fastest mile and the only one where I didn't have to walk during.
I was able to run until the mile 1 sign and then I walked.
Mile 2:
The course goes straight for about 1.5 miles and then loops back.  There was a water stop during this mile that you passed twice.
Halfway through this mile we turned right and ran uphill. Not a steep hill but they always feel hard to me. I tried not to walk until the mile 2 sign but I'm pretty sure that I had to stop and walk a few times.
This part of the course is nice because you get to see the faster runners and then you loop back and see the slower runners.
It was downhill for a bit until we turned.
Mile 3-3.1:
As usual, I was petering out. So I walked. Then I got back my energy for a while until I neared the finish line. Ugh! I walked again.
That gave me the ability to at least to sprint through the finish line.
I was surprised to see 28:XX when I crossed the finish line.. I had expected much worse.
The 10k runners got a medal. The 5k runners only got one if they were under 12. (Totally ok by me!!)
Post Race:
The refreshments were outside again this year. I grabbed some chocolate milk and fruit and chatted while waiting for the results to be posted.  If I didn't win, I wanted to take off so I could get in some more miles before meeting friends for brunch..
A lady came up to me and told me that I was her beacon and that she was happy to finally pass at the last water stop. She came in 2nd in her age group and it turned out that we were in the same age group.  Phew! I came in third.
When I ran this race (in 2016), everyone got a small bottle of champagne and a gift card to a restaurant.  For 2nd place, it was to the Recovery Room and for $50. Last year, there was no awards ceremony and if you won an award, you had to pick it up at the local Fleet Feet store. It was gift card but I never picked it up.
For 3rd place this year, you got a Starbucks metal water bottle, a bottle of champagne and a medal.. (I think I got my $15 worth!)
After I got my award, I left and drove to the Zim Smith bike path. (It was close to the race so my friends picked it as their running meet-up.)
When I arrived, no one had not finished running yet so I was able to get in 2 more miles. I had wanted to run 11 (total) but realistically thought I may run 8. In the end, it was 6 miles.  Good enough!!
I had to rush home to go to a party and then get my COVID booster.
No worries because I felt good enough to finish my long run the next day.
Additional Race Reflections:
The weather was lovely.  I always enjoy the race atmosphere.  This one id not disappoint.
My finish time was slower than last year but it was not unexpected.  I'd love to be back finishing 5ks in 27:XX or even faster..
Not thinking that will happen but it may if I could run negative splits.
Oh well, there will be more 5k races. Just happy to be to out there. and healthy enough to run.
Positives:
Ample parking.
Well marked course.
Varied park scenery.
Both 5k and 10 options.
A no shirt option (at a lower cost)
Participant manual provided several days before the race.
Indoor restrooms
Flatish course.
Immediate results.
Medals to 10K finishers.
Medals to 5k finishers 12 and under.
Chocolate milk.
Starbucks coffee.
Great age groups award swag
Negatives:
10 year age groups
No medals to 5k finishers over 12.
Lack of speed work (my fault).
Gun time rather than chip time for awards
Would I recommend this race?
Yes. Great organization. You may be able to PR for the 5k but the 10k would be a challenge.
I may even sign up for the 10k next year.
Final Stats:
Splits:
Next Up:
Another 5k on Sept 24
and then a half marathon.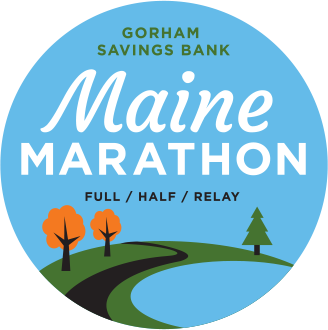 ---
Since today is Tuesday, I'm linking up with Zenaida and Kim (Kooky Runner).
with co-hosts Coach Debbie Runs, Confessions of a Mother Runner, Mile by Mile, Runs with Pugs, and Laura Norris Running.
Happy Running! Did you run or race this past weekend? Any Fall races on your schedule yet? Do you enjoy 5ks? Please share.