Yes another half marathon in February and another one in CENTRAL Park!!
I signed up for the Central Park Half Marathon as my 56th Half Marathon (and third of 2022) for several reasons:
I love NYC.
I love running in Central Park.
I had enough pts for a free hotel room and free train ride.
I had thought my NYC BRFs Cari and Elizabeth may be running it too or at least we could meet up during the weekend.
It kept me doing weekend long runs during the cold temps of upstate NY.
The Frozen Penguin Half Marathon in January got cancelled and there was NO REFUND option.
I had run a half marathon two weeks before in Florida so I was sorta trained.
Half Marathon Training:
If you follow my posts, you also know that I am not strict about following a training plan.
As I said above, I had just run a half marathon. So I just needed to continue my weekday short runs
and complete a taper long run the weekend before.
Again I would not be surprised by the giant hills since I have run in this park and I ran the Shape Half Marathon which was also several loops of the park (but different start and end.)  I also ran a similar course a month ago and in January of 2020 for the Fred LeBow Half Marathon.
Pre-Race Activities and Preparations:
So I took the train to NYC early Saturday morning. I dropped my bag off at my hotel. I stayed in a different hotel from January (on 35th rather than 39th).
For this race, NYCRuns (not NYRR) had mailed out the bib before the race.  That saved time in having to pick it up before the race.  Safer too.
As I did for the last race, I made sure to have something to do instead of tiring out my legs by walking around the city.
I got cheap tix for a Broadway show.  This time: MJ: The Musical
But Cari suggested that we go to Governor's Island to see the Ice Sculptures. That's seemed safer (as we'd be outside) and more fun so I cancelled my show tix.
So after a quick lunch, I hopped the subway and met Cari at the ferry (actually at Pier 11 where she got off the ferry from her apt.)
We spent the whole afternoon walking around the island…and the weather was delightful.
Of course, I had my pre-race pizza dinner and after an early evening walk, I went back to the hotel to plan my #flatme. The forecast was for cold temps, breezy but with sunshine.  I wore a similar outfit as for Fred Lebow so I figured I'd be fine.
Race Day:
I brought my usual race breakfast of oatmeal and coffee with me and got up around 6:00 am.  It was chillier than I hoped so I put on my throwaway shirt, jacket, DIY arm sleeves, grabbed a foil blanket and called an Uber. (My hotel was on West 35th and it would be a long walk to the start.)
I entered the park at E.102nd St because I wanted to check a bag (for after the race) and just followed the other runners into the park.
I was also able to get my race shirt and add it to my bag.
The race didn't start until 8:30 and I was there around 7:10..  This was way too early and so I was freezing. I just paced around the area with the other runners trying to stay warm.
Eventually Cari arrived and we meandered over to the start. (too cold for a pre-race pic.)
The race began on West Drive near 96th Street, completing about two and a half loops of the park across 72nd Street and up Harlem Hill before finishing on the 102nd Street transverse.
It had the same finish location (E 102nd) as Fred LeBow but a different start (W 96th). The race also started 1/2 hour later too since there was also a 5k that started at 8:00 am.
My goal for all my half marathons seem to be FINSH SMILING and NOT INJURED!  This was especially true for this race.  I have never run two halfs just two weeks apart.  I always worry about foot pain and anything else that may occur that could interfere with future racing.  And those hills!!! I do not train for them…
But for some reason, I was very relaxed before the race.
Anyway, here's how the race went:
Miles 1-5:
This race was not nearly as crowded as those organized by NYRR.  1500 vs 5000 runners.  Definitely a more low-key race. There were corrals organized by pace.
Cari and I agreed to run our own races but meet at the finish line. I started in the 10 min corral.  I knew that it would be appropriate for the first few miles of the race.
It took only a short time to get to the start line.
I threw away my jacket but was too cold to get rid of my throw-away shirt.
Although I have run these hills several times before, this course was new to me.  We started on the West side and ran into the wind (brrr).  There were rolling hills but I felt great (IOW ran too fast).
There was a timing clock at each mile and water stops at every 1-1 1/2 miles.  I skipped for first water stop because I was chilled but by the time we headed toward the East side,  I realized that I was indeed perfectly dressed.
At the 2nd water stop, I even took off my throw-away shirt.  Eventually I took off my gloves but held onto them the whole race.
The sun felt great and on the East side, the wind was at our back.  But the East side brought our first major hill – Cat Hill around mile 2.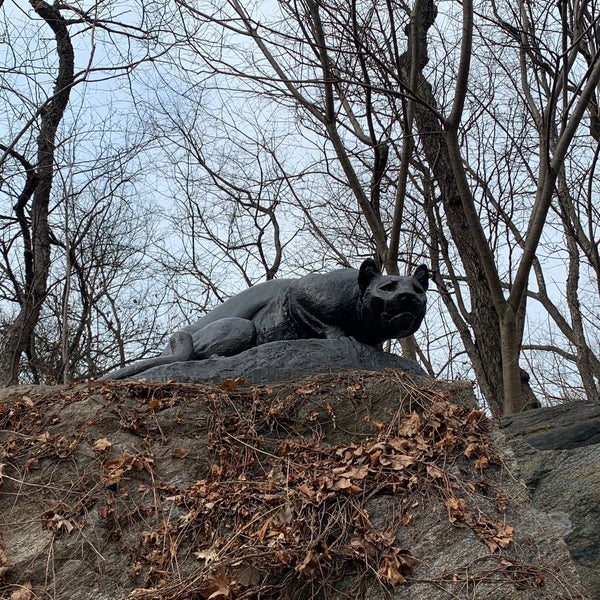 I ran up most of it (slowly) and made up time on the downhill.
I was getting pretty hungry so I ate my first gel at the next water stop (Honey Singer Honey – blech) and continued the loop passing by the Fred Lebow Statue and the path leading to the finish line.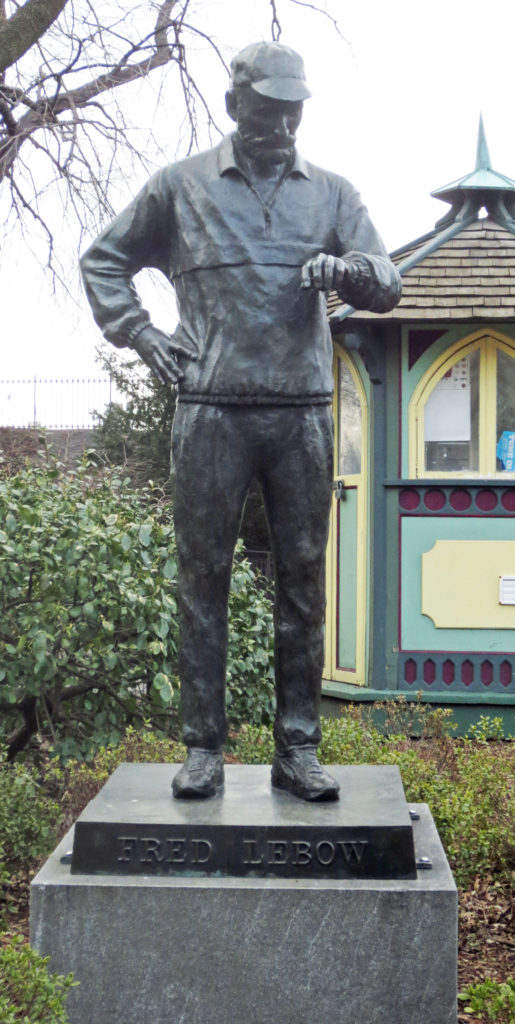 The loop around the park continued with rolling hills and soon we encountered the biggest hill in the park – Harlem Hill. I remember it fondly (since I ran up it thee times in the last half marathon here).
I ran/walked up it until we were on the West side again.
I stopped at every water stop. I have no idea where and when they were. Around mile 8, I ate my 2nd gel (Clff Shot Expresso = instant stomach cramps)
Miles 5-10:
One Loop down, 1 1/2 left.
Now the course repeated itself .. exactly.
I ran comfortably but slowing down and walking more but mostly at the water stops until the last few miles. Nothing hurt which made me very happy.  There was lots of crowd support cheering the runners on (even in the cold).
Cat Hill was harder the 2nd time around, of course but I was running next to a runner with speaker connected to her phone. Instant entertainment. I thanked her.
I saluted Fred again and then headed up the dreaded Harlem Hill. At this point, I was running with a young runner (like college age) and we laughed and dragged each other up that hill. At least for this race, it was the last time up that hill. Yay!
We were back running into the wind and rolling hills on the West side .
Miles 10-13.2:
Second Loop done and 1/2 to go.
We continued on the West side and eventually we approached the East side which meant the end of the race, right?
Unfortunately we had to run up Cat Hill for the THIRD time…
I was ready to be done… but the race was not over yet. We passed Fred one last time.
I stopped for one more gel (GU salted caramel my favorite finally!) so I could at least have enough energy to sprint across the finish line.
We turned left and finally there it was!!
And I did cross it… smiling!
Post Race Activities:
I immediately got my medal, my foil sheet and posed for a quick pic.
I grabbed a bagel, fruit cups and hot chocolate and headed to bag check.
I was chilled and so happy to have my down jacket to put on.
I waited at the finish line for Cari.  She looked so happy!
We congratulated each other and of course, got our picture taken.
Then we headed out of the park..
and shared a long post-race brunch.
Additional Race Reflections:
As you can see from the stats below, my usual positive splits. I expect nothing different.  I started out fast, slowed down as the race went on… walking more frequently especially on the uphills.
Enough whining…I am so grateful to be able to visit NYC and run a race. I am unbelievably happy that after the race, my foot did not hurt. In fact nothing was sore.  My legs felt great. Zero DOMS!!
I admit that I enjoyed this race a lot because of my lack of expectations. I was super pleased that my time was much faster than Lebow (though this course was a tad easier.) Though Cari and I did not run together, it was awesome to share the race experience with her before and after the race itself.
That's wrap for now on Central Park half marathons –
Positives:
Bib mailed.
Vaccination required for ALL participants
Many porta potties at the start. and finish.
Bag Check. Well organized before and easy pick up at the end.
Shirt pick-up either before or after race.
Water and Gatorade stops every 1-1 1/2 miles
Many porta-potties along the course in addition to real CP bathrooms
Corrals by pace at the start
Well marked course.
Decent crowd support despite the cold temps and wind.
Nice gender-specific tech shirt.
Timing clocks at every mile.
Very cool medal.
Heat sheets at the finish.
No lines for post race refreshments.
Hot Chocolate at the finish!
Free photos.
Blogger meet-up with Cari.
Negatives:
Loops!!!
Hills in Central Park.
10 year age group awards (I just prefer 5 years)
Would I recommend this race?
Maybe. For the price ($80 vs $35) and the beanie, I would recommend Fred LeBow (run by NYRR).
But if you want to run a smaller but well organized race in Central Park, this is one to consider.
Final Stats:
Splits:
Next Up:
A few shorter races in March and then in April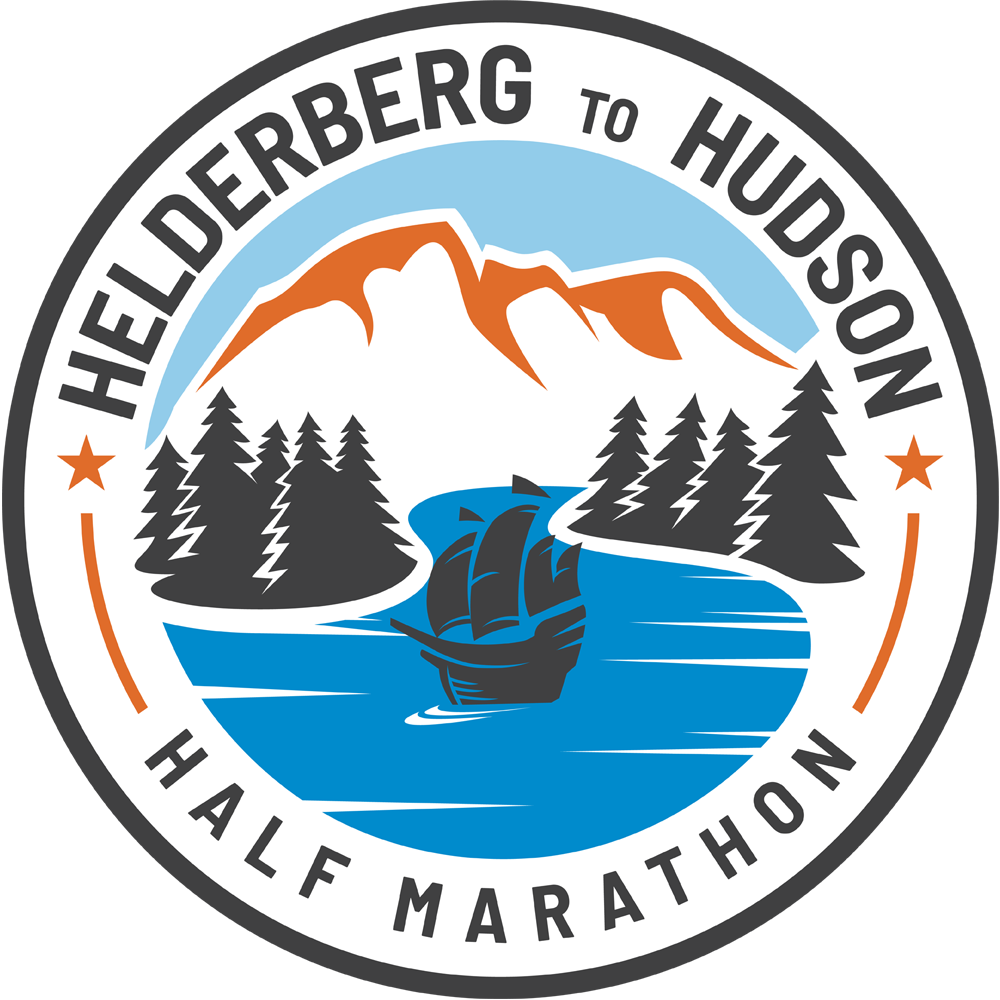 Happy Running! Have you raced in NYC's Central Park? Ever run a cold weather half marathon? What about two half marathons two weeks apart?  Please share.
---
Since today is Tuesday, I'm linking up with Zenaida and Kim (Kooky Runner).
---
I'm linking up also with this link-up: