Quite a busy two weeks. First, I went to Bermuda with Cari for a vacation and a race or two. Then I ended the next week with a trip to Montreal with a friend.
Good thing, I had a passport already.
Last Two Weeks –
Monday – Lunch time chair yoga (the last one). I wish these classes would continue weekly.
An after work run was planned…the weather did not cooperate all day (snow/rain/sleet) but stopped by time I went out to run. My friend Chris had to work late so I ran one loop and she joined me for the second.
Tuesday –  A before work PT visit. My last one before my next half marathon. More scraping, prodding and listening to me whine and complain.
A rest day due to a hair appointment and needing to pack for my trip.
Wednesday – Early morning train to NYC.  I got there very early so took a stroll around Manhattan.
Then I took the LIRR from Penn Sta. to Jamaica where I took the air train to meet Cari at JFK for our evening flight to Bermuda.
We eventually arrived late that evening and took a shuttle to our hotel.
We discovered on that long shuttle ride that Bermuda is indeed hilly and that there are NO straight roads.
Thursday – I hadn't run in a few days and I was anxious to get out there…and run in a skirt!!
But finding a place to run was no easy task. First we headed to Horseshoe Beach.
Then along a railway trail that eventually led to Gibbs Lighthouse where we climbed to the top.
All that walking exhausted us so we spent the afternoon relaxing at the hotel pool
before we took a bus to the Royal Naval Dockyard for dinner.
Friday – Since there was very little running the day before, we decided to attempt a run on the hotel golf course. Nope, hillier than the winding roads. But there was little time for exploring so we squeezed in a short one around the hotel grounds.
After our run, we took the ferry (with some other runners) to spend the day in Hamilton. We explored the shops, streets and had a lovely lunch.
Then we took the bus back to the hotel. There was just enough time for a brief visit to the pool and meet up with friend and fellow blogger Marcia.
That evening was packet pick up and ZOOMA welcome party. Swag, drinks, hors d'oeuvres and new friends. So fun.
Saturday – A busy day planned and our only miserable cold, windy, rainy day. ZOOMA organized a trip to explore Crystal and Fantasy Caves. They were amazing. And so was lunch at the Swizzle Inn.
In the evening, we had our first race.  The ZOOMA Lighthouse Run.  It was still cold, windy and raining. Marcia, Cari and I decided to walk the 1.5 miles. We were soaked but arrived at Horseshoe Beach smiling.
Sunday – The big day!!  An early bus ride to the start and then the ZOOMA Bermuda Half Marathon.  Both Cari and I were just running it to enjoy the scenery and collect our medal at the finish line.  I knew that my foot would hurt but I knew I could do it in pain. The course was breathtaking with hills and curvy roads open to traffic. It rained for one of the early miles and then the sun came out and the humidity rose. It was tough. No lie. But such a well run race. Everyone had a great time and we made so many new friends. The Pacers from OnPace rocked!
After the race, we had thought of visiting the town of St. Georges. Our legs and feet thought the pool and hot tub were a better idea.
In the evening we walked (ouch) to Henry VIII for a celebration dinner and thankfully took a taxi back to the hotel.
Monday – An early wake up to catch the shuttle to the airport to fly home to JFK and then I had to take the air train to the LIRR and a train back home!!
Exhausted but happy with my decision to race in Bermuda (even if it was off season.) Definitely would love to go back sometime.
Tuesday – Back to normal.  Work. Grey skies, cold temps, snow/rain. I decided to skip the after work run and ride the bike at the gym.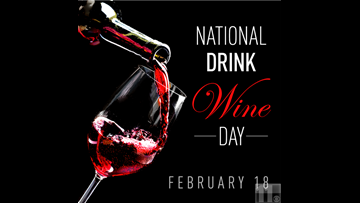 It was also National Drink Wine Day so of course, I had to…I met a friend for a glass of red.
Wednesday – Early morning visit to PT.  I complained that my foot hurt just as much during my race as before I started seeing her. She recommended that I see another foot doctor.  Luckily I got an appt for that same afternoon. She gave me B12/cortisone shot, added a metatarsal pad and wrapped my feet. We talked about all the options (most of which are NOT covered by insurance.)
Afterward, I wanted to go for a run. My friend Chris was sick so I had to run solo. Boo!!
After the run, I met my BFF for a walk around the mall.
Thursday – Back to running after work in my usual location – UAlbany with Chris. Teens with the windchill…brrrrr!
Friday – Lunchtime walk and after work gym biking before mah jongg.
Saturday – Montreal trip instead of my long run with the Sole Sisters. Yes, my friend and I decided to drive there because I wanted to see the interactive Van Gogh exhibit.
We left at 6:30 am and after a 3.5 hour drive, we checked into our hotel and walked to the exhibit. A much longer walk than I thought but the weather was beautiful and the exhibit amazing. 200 paintings on moving screens choreographed to music. So worth the drive!!!
No running today but 8.5 miles on the feet as we also walked to the Old City to have a delicious French dinner.
Sunday – I got up early to do my run…supposed to be 11 miles. The weather was even better than the day before. I ran to the river and along it. I could have run forever but my friend was waiting in the hotel. Only got in 4.5 miles.
Afterward we walked around town and went to the Barbie Expo (yes over 1000 Barbies in costume). Then we had another delicious French meal before we checked out of our hotel.
On the way out of the city, we drove up to Mont Royal to catch the views.
So lucky that the weather cooperated. Might have been the nicest we've had this winter.
This Coming Week – 
Monday – AM PT, run
Tuesday –  run
Wednesday – rest day, gym
Thursday – run 
Friday – rest day, mah jongg chez moi
Saturday – Long Run
Sunday – rest day
---
I am linking up with Kim and Deborah for
I encourage you to do the same. Grab the graphic, drop your link on the host blogs and play along! Please be sure to always comment on the HOST's blogs, as well as visit and comment on as many other blogs as you can.
Happy Running! How is your running/racing going? Have you been to Bermuda? Have you run a ZOOMA race? What's new with you? Please share.