It seems like I've been planning to run this race forever. I signed up for this race because:
Running a race in Paris has been on my bucket list since I first became a runner (FYI: I had been a French teacher for over 20 years.)
The timing was perfect. Columbus Day was the Monday before the race so I would have to take one less day off from work.
My friend invited me to stay beforehand with her friends in the Bordeaux region. This made the vacation more affordable.
My blogging friend Karen had agreed to do the race, as well. (She had since had to DNS because of a trip back to US at that time.)
The race was only 3 weeks after my previous half marathon so I would be (hopefully) still trained.
Here's the race description:
20 kilomètres de Paris is probably the most mythical running experience in Paris as well as the most festive and popular one. Benefiting from 39 editions, 20 kilomètres de Paris is back on Sunday October 14, 2018, this race will gather between 25,000 and 30,000 runners from 100 countries in the streets of the French capital. The route highlights the most beautiful places in the west of Paris (the Eiffel Tower, the Trocadéro, the Arc de Triomphe, the Bois de Boulogne, Roland Garros, Maison de la Radio, the Grand Palais, the Tuileries, the Pont Royal, and the left banks…) while maintaining a high level of safety. 
For better flow, the race will start in waves, 20 waves of 1500 runners each. 
20 musical groups will play their best music all along the route and a lot of spectators will encourage all runners.
Aid stations every 2km
Refreshments will be provided at the 6KM, 10KM, 15KM as well as at the finish line. You will find water, dried and fresh fruits and sugar.
I wasn't that impressed with the above at the time but after my experience at the RnR Montreal, I was very excited to see how organized this race promised to be.
I apologize in advance that this post will be long. You may want to skip ahead to see what I liked and disliked about the race itself.
Half Marathon Training:
If you follow my posts, you also know that I am not strict about following a training plan but I ran my last half marathon on September 23 in Montreal so I figured not a lot of training would need to be done.
Since then I have completed easy weekday runs and longish runs on most weekends.
Though I don't usually care much about my short runs but I do like to get in a 11 and 12 miler before each half marathon.  After completing my last half marathon, I had only two free weekends and I wasn't sure how many miles to run as a long run.  I decided on just 7 miles and then 8 miles.  I was so happy that both were with my Sole Sister running friends.
I didn't expect to run this race at a PR pace. I was running it purely for the experience. I mean, I was racing in F##in' Paris!!! Starting and ending at the Eiffel Tower!!!!
Pre-Race Activities and Preparations:
Friday, after four days in Sanguinet, my travel companion, Lisa and I took the train back to Paris and to the same hotel that we stayed in our first night in Paris.
After immediately checking into our hotel, I hopped the subway to the race village (expo) which was a bunch of outdoor tents near the bottom of the Eiffel Tower. This was a perfect time to go because it was near closing time and was not very crowded. There were numerous tables of running products, info on other French races, as well as many opportunities for tasting and photo ops.
I should mention before I go on too far that on the previous day, I must have somehow tweaked my ankle/Achilles and I didn't realize it until I tried to run to the expo. I felt a sharp pain every time I tried to run. So I just walked and it felt fine. But you can imagine how it freaked me out at the time.
This certainly weighed on my mind the whole next day. We walked and took a boat ride. Actually put over 12 miles on the feet. The only time my foot felt weird was going down stairs. I did not try to run on it again that day.
I debated about what to do with the race. There was no question whether or not I was doing it. But whether I should just walk in case running would wreck my future racing plans. If I was really injured, by running, I could make things worse.
Anyway I carb loaded as if I would run the race the next day but didn't sleep much that night.
Race Day:
Strangely, this race was scheduled to start at 10 am!!!
With almost 30,000 runners, the start was organized in waves. My wave (next to last even though I optimistically listed my finish time as 1:55) was to begin at 10:45 or later.
I brought my usual race breakfast of oatmeal from home and the hotel owner was nice enough to boil some water for me. I also had coffee and a chocolate croissant.
Before I left the US, I checked the weather. It was to be cool and cloudy. Just days before the race, rain was predicted. I luckily got a rain poncho on our bus tour in Bordeaux and brought throwaway clothes with me from home.
Well, wouldn't you know it that Paris experienced an unexpected heat wave. Now it was going to be sunny and near 80 degrees. Yowsers.
I wore my usual skirt and tank. No need to even check a bag. It was already warm when I left my hotel at 9 am.
I rode the subway with lots of other runners and spent the whole ride discussing running with a young French guy.
We received a lot of information and maps before the race with instructions for exactly where to go and what to do.
I basically followed all the runners across the river toward the Eiffel Tower.
Then looked for signs for my wave (color coded pink – you can see the pink dot on my bib).
This was the most crowded race I have ever run. Long lines and we waited what seemed like forever. The French were very calm. No one complained. No one was pushing. The music was very loud and everyone was dancing and smiling.
There were port a potties everywhere and all along course. This I found odd probably because I'm a prudish American but the port a potties were for the women and next to them was a group urinal for the men. They peed out in the open!!!
Eventually my wave entered the start area and little by little we approached the start line. A group of runners was let go every 3 minutes..
I looked up at the Eiffel Tower and I got tears in my eyes. I was running a race in Paris!!! A dream come true.
Screw it if I had to walk 12 miles. I would cross that finish line and get my medal.
Anyway, here's how the race went.  Since the mile markers were in kilometers, I'll recap it by kms. No need to post my splits since I was not racing it. (and my Garmin lost a signal every time we went through a tunnel under a bridge)
The course map: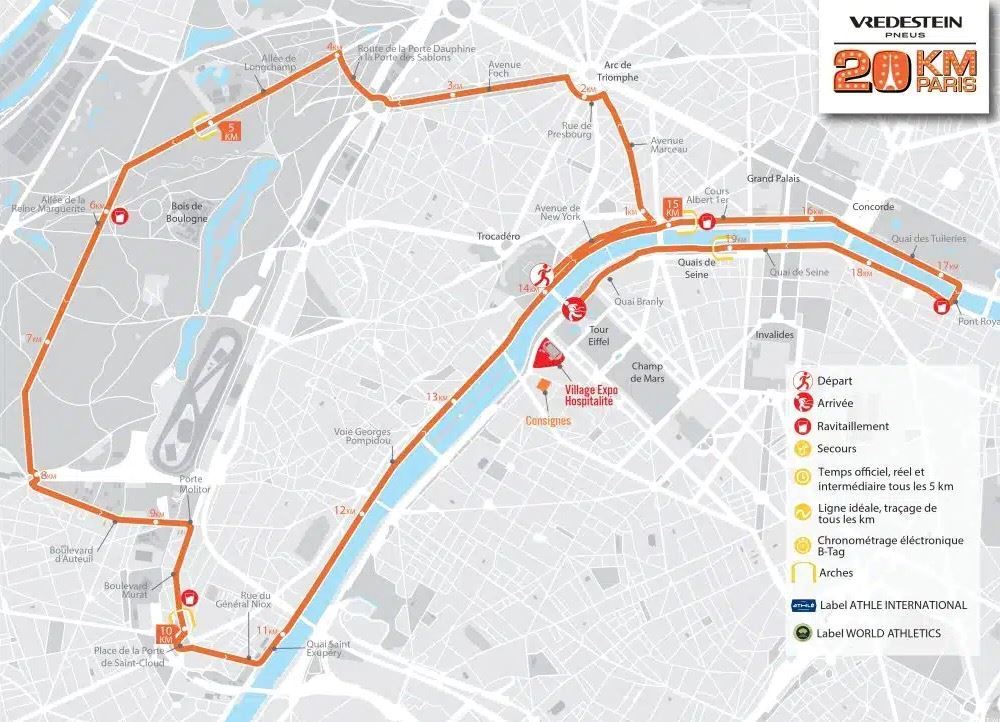 and elevation map (in meters)
Kms 1-5:
Finally around 11:10 am, I crossed the start line.
So what to do? Run or walk? I ran a few steps and it felt weird but the more steps I took the better it felt. Not normal but no sharp pain.
I had to start slow because it was so crowded. No one was walking. Not sure if anyone did any kind of run/walk.
We ran over the Iena bridge and then onto Avenue Marceau. This part of the course was uphill but not that steep. Most of the streets in Paris are cobbled stone. I found this hard to run on and concentrated on my footing and to continue my easy pace. It was still crowded anyway.
The sun was shining brightly as we ran the shade less streets of Paris.
I had thought I read that there would be water every 2km.
Nothing at 2km
Nothing at 4km. I misread "aid stations" to be water stops.  How "stupide" of me.
I tried not to think about how thirsty I was and to concentrate on the course.
We passed the Arc de Triomphe and then ran down Avenue Foch.
I never looked at my Garmin during the entire race but there were timing clocks at 5k, 10k and 15k.
When I passed the 5k mark, I was pleased that I was running easy and still had not walked.
Soon we turned and entered the beautiful Bois de Boulogne. No more cobbled stones but speed bumps in the road.
Still running slow and easy. No pain. But dying of thirst.  Next we ran along the Allee de Longchamp.
Kms 6-9:
We continued running through the park and finally around 6k, there were bottles of water and tables of food: sugar cubes, figs, dates, raisins, orange, lemon and banana slices and more.
I grabbed a bottle of water and a fig, date and sugar and walked for a while.
There were recycling containers for a long while. No throwing of bottles on the ground. But there were lemon and orange peels on the ground. The volunteers kept screaming to watch out that it was slippery.
After we ran along the Allee of Queen Marguerite, we left the park and followed Boulevard d'Auteuil. We turned at Porte Molitor to run down Boulevard Murat until we got to the roundabout of Porte de Saint-Cloud. Here we headed toward the banks of the Seine River.
Another clock at 10k. I now realized that I was running slower. But I was very very hot. You could hear ambulances on the course. I didn't want to be in one of them. Besides a blister forming on the bottom of my toe (in a new place), I was feeling no pain. Very happy about that. (The pain free foot not the blister lol)
Finally another water stop and the same refreshments as the last one. This time I walked, took a bottle of water and ate one of my GUs.
I realized too late that I should have carried the bottle of water from the water stop to the next since obviously, there was NOT water at every 2km.
At this point, the race got very hard. I don't usually doubt my ability to finish a long race but I was just too hot and thirsty.
I did what any runner in this situation would do. I ran and walked and then walked and ran.
My foot felt great. But what bothered me the most was my shoulder/rib. It was really painful during the last few miles. (Ok. Another non-running injury from banging it hard in Bordeaux getting on a bus. Yes I am a klutz.) The pain stopped when I walked. Oy! Hard to run without swinging your arm. So I just walked more and taking in the scenery and appreciating the fact that I was running a race in Paris.
We were now running along the Right Bank of the Seine River. You could see the Eiffel Tower in the distance. It was still far away but a welcome sight.
I smiled when I passed the Statue of Liberty in the middle of the Seine.
Eventually we ran by "la Maison de la Radio", the 20km de Paris street art fresco specially done for last year's race and the historic bridges of Mirabeau and Bir Hakeim.
The third and LAST water stop. This time I drank the whole bottle of water and ate some dates.
We were still running along the Seine passing some the most famous sights of Paris: Grand Palais, Place de la Concorde, Tuileries Gardens.
Eventually we crossed the Pont Royal to run along the other side of the river. Though there was no more water stops, there were many water fountains on this side. Many runners were stopping to take a drink and pour water over their heads. I just wanted to finish!!
We soon passed the Musée d'Orsay and Les Invalides and we were heading to under the Eiffel Tower.
Finally I could see the finish line. And I tried to sprint across. It was very crowded as I was now running as a BOTPer.
The clock was meaningless since it had started with the elites. Even my Garmin was inaccurate since it lost its signal each time I ran in a tunnel under a bridge.
But who cares? I ran a race in Paris. I couldn't stop grinning.
As you as soon as you crossed the finish line, you were handed a bottle of water, then a bag of food and eventually your medal.
Then you were directed to a stadium where there was organized bag pick up, guided stretching and yoga. There were also men's and womens changing tents.
I felt dizzy and just sat on the grass for a bit to eat some of the food in my bag.
Then I took some pics and followed the other runners to the subway. The trains were full of sweaty yet happy runners all wearing their medals around their neck.
On the long subway right back to my hotel, I just wanted to pinch myself.  Did I just run a race in Paris, the most beautiful city in the world (in my opinion)?
Believe it or not, by the time, I got showered and changed, it was time to plan my celebratory dinner.
Additional Race Reflections:
The Good:
The expo – the food, the swag, the info…
Nice gender specific shirt
Pre and post organization – lots of signs and emailed info
Refreshments on the course
The course – scenic and pretty flat
The music before and during (all types and American)
The medal
Directions on spectator viewing
Great crowd support along the course – so much called out my name and cheered me on
Immediately emailed results
Live streaming on YouTube of the race
No rain
No injuries
The Bad:
Late start
More tables needed with just water
Warm temps
It seems that they ran out of medals and water at the 15k stop for the slowest runners (phew!)
Would I recommend this race?
Yes, if you don't mind a large crowed race. If you ever get a chance to go to Paris, consider running this race.
Here's a video that pretty much captures the highlights of the race:
Final Thoughts and Stats:
As you can see, I definitely finished in the BOTP. (23,418 out of 26,281 and 23 out of 43 in my AG)
The race was only 12.4 miles and my finish time was slower than most of my half marathons.
Still I am proud to have gutted it out under adverse conditions.
Those French runners are fast. And they don't wear skirts and the men pee out in the open.
C'est la Vie!!
Next Up:
Pelham Half Marathon on Nov 24!!
The day after the race, I ran 4 miles and my legs felt better than during the race. Go figure.
---
It's Tuesday so don't forget to link up with these wonderful ladies:
Erika @ MCM Mama Runs, Marcia @ Marcia's Healthy Slice and Patty @ My no-guilt life
I am also joining up with Running on Happy, Suzlyfe, Crazy Running Girl, and Coach Debbie Runs for the Coaches' Corner linkup
Happy Running!  Have you ever run a race in a foreign country? What was different? Do you have a bucket list country to run in?