I am NOT a morning runner.  So I have to run after work.  That was fine until we turned our clocks ahead.  It is now dark out and most of my running routes have NO lights.
I know that I could buy and use a head lamp but to me, it looks dorky.
You know how I feel about dread I mean treadmills.
So I ordered Knuckle Lights so see if they would work for me.
I had three hesitations about them before I used them:
I hate carrying anything in my hands.  I don't carry a water bottle even on hot summer days. Would these annoy me?
If I don't swing my arms correctly, would they still light my path?
Would they be bright enough to run where there are no lights?
First some details about Knuckle Lights:
Each one is just shy of 4″ tall and the light part is 1″ wide.
Each one weighs less than 3g.
There is an adjustable strap on the back of each one to fit your hand (with or without gloves).
Each of the lights has a wide angle so it fills the space well.
They each use one AA battery.
There is a high beam (140 lumens each), low beam and blinking mode. You just press the button on top to change modes.
They are waterproof.
So did I like them?
YES!
I ran with them twice already.  I used them on the high beam setting and they gave me plenty of light so I could run in the dark.  They are very light-weight and didn't bother me at all to carry them. In fact, I think they made me swing my arms correctly so that they would light the path ahead of me. (If you swing your arms across your body like you are not supposed to, they wouldn't help you.)
The second time I used them, a man who was walking his dog exclaimed "Boy, you are illuminated!"  And I thought, "That is the point!"
I'm not sure how long the batteries will last but you can also buy Knuckle Lights that are rechargeable.
You can read more about them at https://knucklelights.com/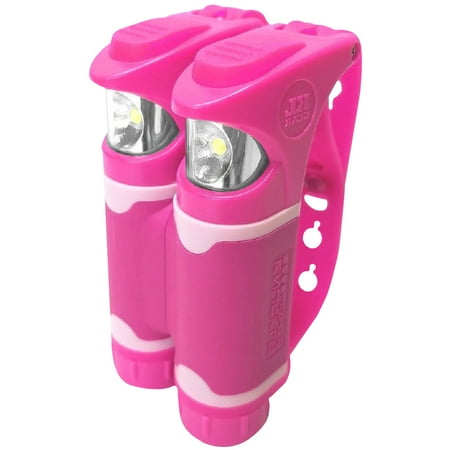 If you would like to win a pair of (pink) knuckle lights like pictured above, enter below:
The Deadline to enter is Midnight December 8.
Since it is Friday, I'm linking up with Running on Happy & Fairytales and Fitness for the Friday Five 2.0 linkup! Join in! Don't forget to link back to your hostesses and visit some other bloggers.
Here are FIVE Reasons to Buy Knuckle Lights:
Allows you to Run when it is Dark (lights up your path as you swing your arms)
Easy to Use (one button and 3 light settings)
Light-weight (you put them on your wrist and they are adjustable)
Not too expensive ($40)
Use batteries or you can buy Knuckle Lights that you can charge.
Happy Running! Do you run in the dark? If so, what do you use?