Don't forget to Link-up with Patty, Erika, and Marcia and either meet some new bloggers or catch up with ones you already know.
This month's topics are free so I've chosen: YOLO for Runners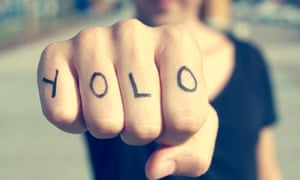 What does it mean?
According to the dictionary:
YOLO is an acronym for "you only live once". Similar to Latin "carpe diem" ("seize the day"), it implies that one should enjoy life, even if that entails taking risks, as if there would not be another chance for it.
For a runner, YOLO means:
Running on a new path. We (or at least I do) tend to run on routes where we are comfortable. So to get out of this rut, you have to be adventurous.
Run a race even if no one else 

you know is running it. Yes, it is more fun with friends but we shouldn't not run a race just because "no friends are going."
Run a new distance. If it's a longer distance, that's pretty scary. (I mean I won't run a full marathon.)  But instead of 5ks and 10ks, try a different one.  Besides, if it's the first one, it's automatically a PR.
Be spontaneous. Be open to new experiences

rather than over thinking and obsessing. Usually, I just sign up and plan later. But lately, I've been mulling races over more.  Can I afford the race?  Can I take the time off from work? Do I want to go that far?  Mind you, they are all valid reasons not to run a race.
I have two more halfs this fall that I am having a tough time making decisions about.  I may just postpone one until next year. And the other – TBD
This week I am also joining up with Running on Happy, Suzlyfe, Crazy Running Girl, and Coach Debbie Runs each week for the Coaches' Corner linkup.
Happy Running! Are you a planner? Or a YOLO kind of runner?