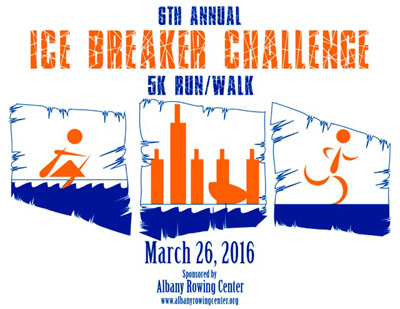 The Ice Breaker Challenge is a one of a kind Capital District running/walking road race challenging runners and walkers against rowers from the Albany Rowing Center. Runners/walkers will travel along the Corning Preserve Bicycle Path while rowers from the Albany Rowing Center will race along side in shells on the Hudson River.
This was my second time running this race. I ran it in 2013 and I do my long runs here often so I am very familiar with the course.
There were many races to choose from this weekend, but I choose this one based on its location (close to home) and I could easily add more miles on after the race.
In some ways a 5K is harder than a half marathon. It's only 3.1 miles and you have no reason not to run fast. That's pressure. But I tried not to succumb it. Besides, I planned to run another 7 miles afterward to complete my 10 mile long run.
I was dragging my feet (a late night playing mah jongg with a lot of junk food consumed) but perked up when I arrived at the race. I tried not to overdress (but it is hard when you are cold at the start & afterwards). I wore capris attached to a skirt, a long sleeved tech shirt, and a baseball cap.
That's because the weathermen had predicted a nice day – 50's and sunny. So I thought.  I should have checked before I left the house. Because it was overcast, very windy and in the 30's (20's with the windchill.)
So I was frozen.  I found a windbreaker in my car and light gloves.  Thank God. But my ears and legs were very cold.
I grabbed my bib and sat in my car with the heat until it was time to line up.
I went back out about 15 minutes before the start & bumped into Ingrid, from my running group.  We chatted and then the race started.  She took off and left me in the dust.  (She is super fast.)
I tried to focus on the scenery…the river…the rowers and not worry about my pace.  I hardly glanced at my Garmin (just a few times & was pleasantly surprised.)
The first half of the race was running into the wind.  At least today, my hat stayed on but it was tough going.
There was a water stop at the turn around.  I wasn't really thirsty but was tired so I stopped and walked.
At least on the way back, the wind wasn't a problem.  Although, it din't appear to be at our back either.
Shockingly I crossed the finish line at 27:55.
No chips.  You tore off the bottom of your bib.  There were two lines, who knows how they kept things straight.
(I got a text with 27:55 and it was posted with that time.  However, now it is listed as 28:03. My Garmin has the faster time so I'm sticking with that.)
Splits: 
mile 1:  8:59
mile 2:  9:31
mile 3:  8:58
.14:      7:20
I had some food – There were cookies, bagels, fruit, etc.
Then I walked back to my car to put away my race belt, etc. They also gave away boxes of Freihofer cookies
I was hoping to have company for the rest of my miles.  I got used to having a buddy along on my long runs.  Both Judy and Barbara were unavailable.  Thanks to FB, someone responded to my plea and agreed to run with me. All I knew about her was her name, Alyssa. We agreed to meet at 10:00 am.
Then I checked my phone and it turns out that her son was sick and she had cancelled.
I was disappointed but it gave me time to hang around and see if I won an age group award.
And I did!! First in the 60-99 category.  Gee, that made me feel old. And they only gave out first place (no 2nd & 3rd – so lucky me!)
I didn't feel like it but I had to continue running.  I was freezing so  I added another skirt under my jacket and off I went. I ran 1.5 miles toward downtown Albany and back.
Suddenly, the sun came out and I wasn't so cold.  I stopped back at my car and grabbed some Gu chomps and shed my jacket.
Then I ran 2 miles in the other direction and back. My legs were dragging. I tried to get distracted by my surroundings.
I misjudged my turn around so I wound up with 7.4 miles instead of 7.
10.5 miles done for the day and tomorrow I can enjoy a relaxing Easter. My mother-in-law is cooking!!
Happy Running! Did you run or race this weekend? What did you on Easter Sunday?