The CDPHP® Workforce Team Challenge is a 3.5-mile road race open to teams of employees from corporations, businesses, government agencies, educational institutions, not-for-profit corporations, and financial institutions. Participating companies, organizations, and agencies use the event as a platform to provide health and fitness opportunities in the workplace while promoting goodwill and camaraderie among their employees.
It takes place at the Empire State Plaza in Albany on a similar course to the old Freihofer course. It usually sells out early with a cap of 10,000 runners.
At my former job, I ran this race once (in 2011), the only year I convinced them to have a team.  It was fun so I signed up to be part of a team at my new job in 2017. We didn't actually have enough runners for our own team so we partnered with UAlbany. I ran it with this team in 2018 and 2019, as well.
I enjoyed it and it was a good way to get to know others where I work.  (Obviously purple is UAlbany's color…)
Then there was the Pandemic.  The race was cancelled in 2020. In 2021, it was postponed to August and moved to a new location.
Happy to report that this year, the race returned to its original date and location.
1.Race Day:
Anyway I remembered the course from many years ago. It starts with a steep uphill and then flattens out.  You run through the park which has rolling hills and then it ends with a steep downhill.
It is actually more of a run than a race.  With thousands of participants and many walkers, you feel (at least I do) no pressure to do anything but finish.
The Monday before the race, I had returned from 8 days in Florida.  And I had run a 5k on the previous Sunday.
During the days before the race I was soooo tired. I considered skipping this race many times.  But I hadn't made a definite decision.  Factoring into the decision was the fact that I would be running a half marathon the weekend after, as well.
So I did run (slowly) on Tuesday and Wednesday.
When I woke up to a rainy Thursday (race day) with a headache, I felt that I should DNS this race.  I worked until 4 pm and then it started to rain again… hard!
Confirmed! "I'm not racing," I said to my hubby.  "If the rain stops later, I'll just run on my own" (maybe).
And that point, the rain stopped and the sun came out.
Well, you know what happened next. I felt guilty and decided to go to the race.  I knew that many of the participants would be walking and I could too.
Now what do you eat for a race that starts at 6:25 pm?
I quickly ate some waffles and hoped that would be enough.
To avoid the crowds, I parked my car in town and walked about 1.5 miles to the start. Actually I had to run some of it because I left later than planned.
The weather was cool (60s) and the rain had stopped. I even brought a jacket. I checked my app and the humidity was 90%  Yikes. (I was overdressed with a long sleeve shirt. At least I chose to wear a skirt.)
My team was pretty organized. Again this year, they had set up a table and canopy.  I walked around for a while searching for their table but finally located it (in a place not far from where it was in a previous year.)
I had not already picked up my team tee and bib so I got that and was just in time for the team photo. (I didn't know anyone on my team since I don't actually work for them and as I mentioned before, my place of employment does not have its own team.)
I wore the team shirt over my existing shirt even though it was too big again this year (Unisex!!)
Soon it was time to  headed to the start. There were fewer runners lined up this year (almost 4,000 + many running it virtually), but they again had corrals.  I was in the second corral (LIME green). I pushed my way in (as predicted many ignored their correct corral) and moved up as far they could.
And then I just waited in the crowd. What was cool about this race is that I knew so many runners and they were all running/walking with their work teams.
Several years ago, Sawyer Fredericks (winner of The Voice and a local) sang the National Anthem. This year, it was an unknown local however, she was great.
Eventually, the race started.
Of course, it took awhile before we even moved.
The biggest problem with this race was that unless you were in the front and very fast, it was impossible to gain any speed.  Even with the corrals, I was playing bumper cars the whole race. It seemed even more crowded this year even without the walkers in front of me. So middle of the packers, like me, just weaved in and out, bumped into people saying "excuse me" throughout the entire race.
But then again except for a chosen group of runners, it was not a "race."  It was just a way to get out of the office (or for me "home") and get some exercise with their co-workers.  Some businesses had 200-500 employees participating.
I think it's a great thing. So I tried not to get annoyed or take it seriously.
In fact, this was great for me. I had the goal of NOT racing it… walking up the hills and keeping my pace between 10 and 11 minutes!!!
Back to the race…
We started up a long uphill climb which flattened until we entered the park. I ran slow and chatted with many runners that I knew.
The course continued through the park with rolling hills – one or two being rather steep.  Yes, I did walk.
There was a water stop in the park around mile 1.5. I stopped and walked. It was much warmer than I had thought..  We continued in the park but eventually left onto the streets of Albany.
There was a second water stop around mile 2.5 and I stopped and walked even longer.
Because I started out so slow and never ran fast, I never felt tired or out of breath.  A new concept for me.
Eventually, you headed toward that downhill finish.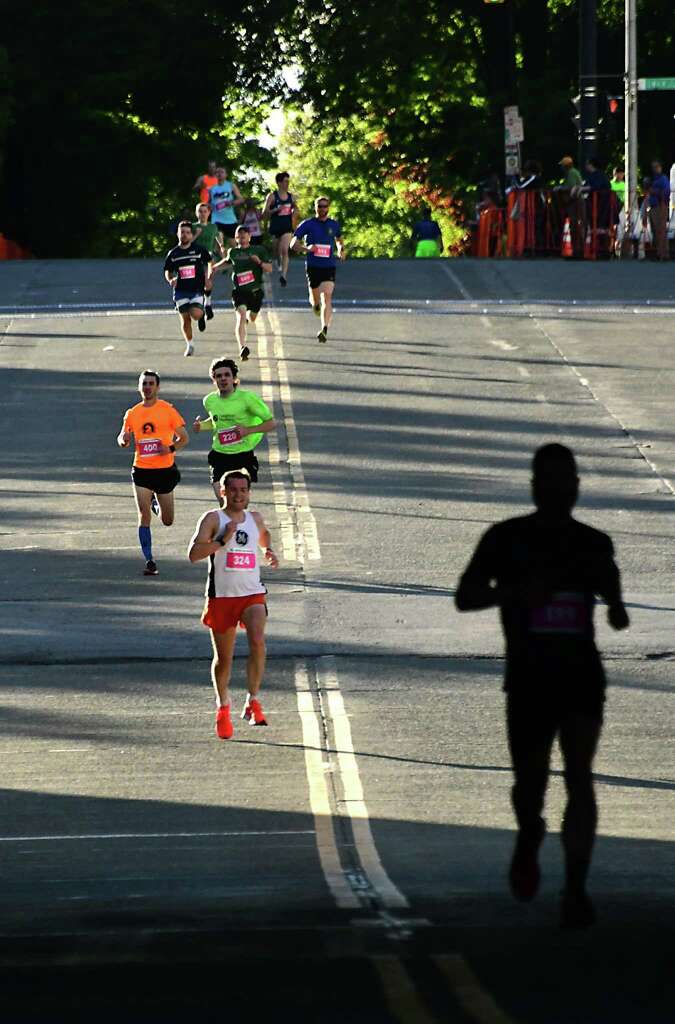 I was tempted to go into an all out sprint but it was a steep downhill so I had to hold back.
But when I saw the clock in the distance, I picked up the pace so that I could at least finish strong.
I crossed at 35:xx.
I was pretty happy… I had done just what I had planned and I felt so much better than I did before the race (It's so amazing about that "runner's high.")
2. Post Race Activities:
I slowly made my way back through the crowd to the team table to get a jacket that I had left there.  There was no one there.  In past years, there was quite a spread of refreshments and runners there planning an after race get-together.  Not this year!
I was very impressed by the race organization again this year.  After you picked up water, you proceeded to a tent to get your time (if you wanted). I just logged onto my phone and skipped that line.
Then you continued on to get your race shirt, followed by another stop to a get bag with food. The lines moved very quickly.  There were lots of volunteers to make sure everything went smoothly.
I bumped into many running friends and we chatted as we walked around the Empire State Plaza.
Eventually, I had to make the long walk back to my car…
It was over an hour after I finished but there were people still on the course… Everyone looked happy and to be having a great time.
It made me smile but I quickened my step to get to my car since it was getting late with a quick detour through the park…
3. Additional Race Reflections:
My finish time may have have been the slowest on this course.
2022 – 35:14
2019 – 32:56
2017 – 33:40
2011 – 33:41
Nevertheless, I had lots of fun chatting with friends and meeting new runners.  Getting in my last run before my half marathon was just gravy.
To quote the winner of the race: "Just the fact that you're there representing your company as opposed to being in a race on your own is definitely something else that makes it extraordinary,"
Positives:
Ample parking in lots and on the street.
Well marked course.
Music throughout the course
Lots of familiar faces.
Interesting course (park, city).
Friendly volunteers.
Team tee shirt contest – https://www.cdphpwtc.com/shirts/ 
Team atmosphere
Walker friendly
Swag – cooling towel and water bottle
Instant results
Free photos
Back to the original date and course
Negatives:
Hilly course
Humidity
My co-workers did not participate
Cotton shirt
Splits:
No age group awards given but I would have placed 3rd.
I am glad to have participated in this race. It is run by a local running club and they seemed to try to improve the race each year.
I will probably run it again next year. Hopefully, I can encourage more of my co-workers to join me.
5. Next Up:
It was the Steel Rail Half Marathon 3 days later.
followed by the Miles on the Mohawk 10 Miler the following weekend
then the Freihofer Run for Women 5k the weekend after.
The next important race is a 15K at the end of the month – Adirondack Race to the Lakes (which I ran in 2019 and 2018)
Happy Running! Ever participate in a team race? 
---
Welcome to Fit Friday Five! Please join the hosts Me (My First 5K and More), Running With Attitude, Run Laugh Eat Pie, Runs with Pugs, and Zenaida
and add your link below:
You are invited to the Inlinkz link party!