I do have a music playlist but lately when I run alone, I listen to running podcasts.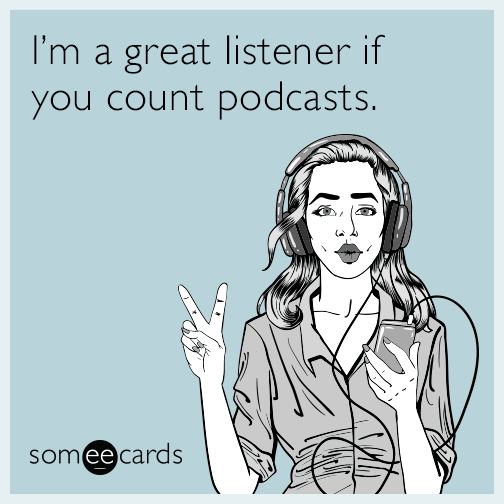 So here's my current favorites:
Run This World– this one is done by Nicole DeBoom who is the founder of Skirt Sports. Her podcasts last as long as the average 5k run (that's what she says but many are much longer) and her guests are so varied and yet motivating. Each one ends with the guest's "nugget of advice."
I recently listened to one with Kara Goucher on running a marathon as a normal (not elite) runner.
I'll Have Another– I love listening to Lindsay's guests – she interviews mostly women – some are well known but many are not. And they all have a story to tell (about running.)
I just listened to her interviewing Becky Wade who wrote a book called "Run the World" where she shares all about her experience; what she learned from 9 of the countries she spend the most time in and some delicious recipes from the trip. I loved her book.
Another Mother Runner – The Podcast – The host is Sarah Bowen-Shea but Dimity is often on it as well. I've met these two women in person and they are so entertaining. It's no surprise that their podcasts are as well. In addition, to stories about their own running and families, they share their love of reading.
One of my more recent listens was the Father's Day episode with Meb.  Such a humble guy considering his elite status as a runner.
Ali on the Run Show – I've always loved her blog and I've enjoyed all the guests that she has interviewed so far. The podcasts last over an hour so I've used them during my long runs. She also has added some shorter ones for weekday runs.
I recently listened to an interview by Dave Willey, the former editor of Runner's World magazine. After 14 years at this job, his life has changed drastically.
Diz Runs Radio

– He has recorded almost 750 podcasts.  And I can't believe how fast he talks lol.
In addition to interviews with runners, he also hosts Q & A sessions.
I've only listed to a few of his podcasts (just so much time) but the ones I've  heard were so inspiring and many of his guests were just ordinary runners like you and me.
So besides the ones that I listen to, here are some more that have been recommended for runners:
---
There is a link-up organized by Zenaida and Kim (Kooky Runner).
Since today is Tuesday, I'm also linking up with these ladies.
---
I'm linking also up with Coaches Corner–Debbie and Marc.
Happy Running! Do you listen to podcasts while you run? Do you have any others to recommend? Please share.