Thanks to Laurie from Meditations in Motion, I discovered a new link up started by blogger Heather Gerwing. The last Monday fourth Saturday of each month, Heather invites other bloggers to share their "Four Somethings": Something Loved, Something Said, Something Learned, Something Read. If you are a blogger, you may post your Four Somethings too!
Something Loved.
I used to do yoga weekly but I had gotten out of the habit, plus traveled a lot for work.  But when my neighbor posted about a Cat Yoga class at the local animal shelter last month, I had to sign up. I love CATS and at one point, we had FIVE of them.
Needless to say, it came at a perfect time. I was not running due to an injury and I recently lost my favorite cat, Jerry.
Who could not love a relaxing after work activity while listening to cats purring around you. It was hard leaving and not taking them all home.
I hope that they offer this class again. (There are Goat Yoga classes offered in my area but they are not as appealing LOL)
Something Said.
I have been a Lady Gaga fan right from the beginning. And of course, I am a bigger fan after seeing the movie, A Star is Born.
This quote is definitely true for me, as a runner. It is why I race. Not to win an award or have a faster time but to finish the race. It is why I will be attempting my first marathon.  I know that it will be hard. But I will finish the NYC Marathon, even it takes me 6 or 7 hours. I am not giving up this dream.
Something Learned.
A.R.T. helps. I was a skeptic. I mean, my leg hurt worse than before I sought this treatment. Why would anyone inflict pain on oneself?  I could run fine.
But in my head, I knew something wasn't right. I felt it while walking on the beach.
After many sessions, I ran the NYC Half Marathon.  Could I have run this race without ART? We'll never know but psychologically, it helped probably more than physically.
Something Read.
I had forgotten how much I loved the book, Soul of an Octopus by Sy Montgomery. (Thanks Laurie from Meditations in Motion).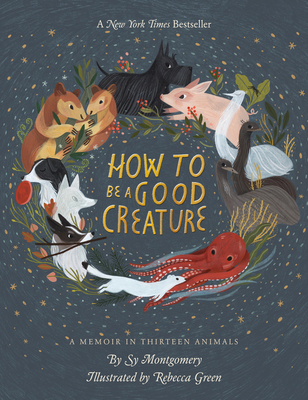 I just loved this one too. Obviously it is a memoir of 13 animals in the author's life and her relationship with each one.  But it was so much more. The book also deals with Montgomery's struggles coping with the aging process and subsequent death of the animals she loved.  I and many others unfortunately can identify here.
My favorite lessons/quotes from the book:
from Molly (a terrier)- "The real world, the world I loved, was just out of my ordinary human sensory range."
Christopher Hogwood (a pig) – "…unlike the case with my human family, the differences between Christopher and me….would not trouble our relationship."  "He taught us how to love what life gives you. Even when life gives you slops."
from Clarabelle (a tarantula) – "People aren't born with a fear of spiders"… they are "tiny creatures who may love their lives as much as we love ours."
from a weasel who killed a pet hen – "this creature's incandescent presence left no room for anger in my heart — for it had been stretched wide with awe and flooded with the balm of forgiveness."
from Tess (a border collie) – "unlike most other humans, I could voyage…, in the pitch blackness…she loaned me her dog superpowers…
"You do feel them (the presence of loved ones who had passed on)..What you are feeling when you miss them is not their absence. It's their presence."
from Octavia (the octopus) – "Thousands of mothers…have taught their kind to love and to know that love is the highest and best use of life…. love is a living thing…"
from Thurber (a half blind border collie) – "You never know, even when life looks hopeless, what might happen next. It could be that something wonderful is right around the corner."
I highly recommend the book especially if you are an animal lover.
Happy Running! What are your FOUR somethings? Share at least ONE.