Since today is Tuesday, I'm also linking up with these wonderful ladies:
Erika @ MCM Mama Runs, Marcia @ Marcia's Healthy Slice and Patty @ My no-guilt life for
Today's Topic is: Your Running Guilty Pleasure
Many might say mine is clothes because I always have to match but truth be told, many other runners buy much more running clothes than I. I don't need to try every new item out there and I don't like to spent my money on running clothes.
I have NEVER gotten a massage nor have I ever seen a chiropractor.
But I am a sucker for FOOD!!
Yes, I plan my runs by location near a desirable food locale like Starbucks coffee
or any ice cream establishment.
If someone mentions food after a run, I'm there!
I feel lucky to have found a bunch of women who feel the same way! You'll never see any empty place in front of me after a run (only an empty plate LOL).
I am especially drawn to races with good post-race food options.
Yes, I know I most likely add back more calories that I have burned running.
Life is too short!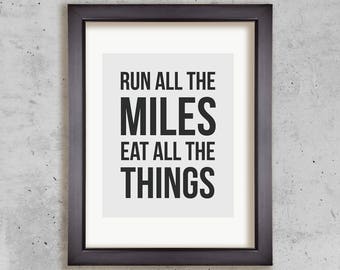 Happy Running! What is on your running guilty pleasure?