Last year I linked up with Montana from Pretty Lil Mudder and bunch of other bloggers to give out some awards to the races that I ran. It was fun so I decided to do it again. (Soon it will be 2018 and my posts about 2017 were be over…LOL)
Since I ran 35 races, I had no problem finding a race for each category but it was sometimes difficult to just pick ONE race.
Most Scenic Course –
I loved having views of the Atlantic Ocean while running the Treasure Coast Half Marathon (in Stuart, FL).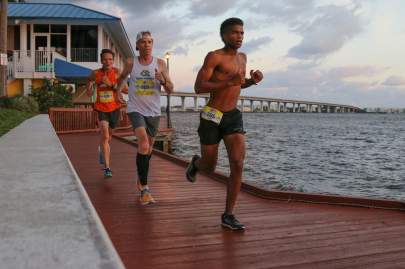 Most Challenging Course –
Hills are not my friend so I'd say that the most challenging course was the Shape Half Marathon (two loops in Central Park meant running the hills twice!)
Best Course Support (aid stations, volunteers, people cheering you on, etc) –
The crowds came out in mass along the Vegas strip to watch and support the runners during the RnR Vegas Half Marathon. People were out there cheering during the whole nighttime race and there was an abundance of water stations and volunteers.
Best Expo –
Hands down, the RnR Vegas Half Marathon had the best expo.
Best Swag –
The Wineglass Half Marathon definitely had the best swag.
Most Unique Medal/Award –
The most unique medal I received was from the Wineglass Half Marathon because it was actually made of glass. (The region is famous for hand blown glass.).
I get tons of medals for age group awards so I was excited to get something different. I loved winning a tea cup at the Polar Cap Run.
I also like to get practical things. So winning a drink tumbler at the Tropicool 5K was great. I've used it many times.
Best Post-Race Food/Beverages –
Definitely one of the reasons I run the Bacon Hill Bonanza 5k is the food. They have chocolate milk (from a nearby farm), homemade cookies & muffins, chili, pizza, vegetarian rice dish, etc.
Best Race Shirt-
The Wineglass Half Marathon had the best shirt. I've worn it a few times and it is so comfy.
My second favorite shirt was the one from the Shape Women Half Marathon. I liked the bright color and the women's fit.
Favorite Overall Race –
That's a tough one. I enjoyed ALL of my races this year.
I'd have to say the Freihofer Run for Women because it's local, I know so many of the runners, it's all women and this year I actually ran it well.

And of course, the Wineglass Half Marathon. Running and spending the weekend with new and old running friends was so fun.
Race You Are Most Proud of Yourself for Completing –
I am proud of completing ALL my races. None ever seem easy. I am especially proud that I can run 13.1 miles!!
But I would have to say that I am the most proud that I finished the RnR Vegas Half Marathon because of how difficult it was for me (all due to the stupid mistakes I made beforehand.)
It was also my first challenge (two races in two days.)
And the Steel Rail Half Marathon because my GPS watch was not working and I did not feel properly trained for the race. (Yet, I pr'd. Go figure!)
---
This week I am also joining up with Running on Happy, Suzlyfe, Crazy Running Girl, and Coach Debbie Runs each week for the Coaches' Corner linkup
Happy Running! What awards would you give to the races you ran in 2017?